2022 Pop Culture Highlights
This year there were many things that happened on social media that made the public so invested in what was going on. In the media, there were a lot of exciting, yet interesting events that took place. Here are five iconic pop culture moments of 2022.
Elon Musk bought and now owns Twitter
In October, the CEO of Tesla became the owner of the common social media app, Twitter. After closing the $44 billion deal, he has done different things to try to alter Twitter. His main goal was to eliminate the censorship Twitter had in place before the purchase. He changed the terms and conditions of Twitter to make the app more open to all types of commentary. Another thing Musk did was reinstate the account of former president Donald Trump. Even more recently, Musk said he would step down as CEO once he finds a replacement. He will still continue to own the company however. 
Pete Davidson and Kim Kardashian Together, but Not Anymore 
Pete Davidson and Kim Kardashian started dating in October of last year after Kim and Pete's funny skit on Saturday Night Live. Their relationship was heavily featured in the media because of the shocking nature of the couple. People were curious and consistently checking for updates on the relationship. Davidson even got a few tattoos in honor of Kardashian and her kids; one of his tattoos was on his chest in honor of Kardashian passing the baby bar exam. "My girl is a lawyer." Sadly in August, the couple broke up over their busy lifestyles and long distance relationship due to their conflicting schedules. 
Ticketmaster's Taylor Swift Presale Mishap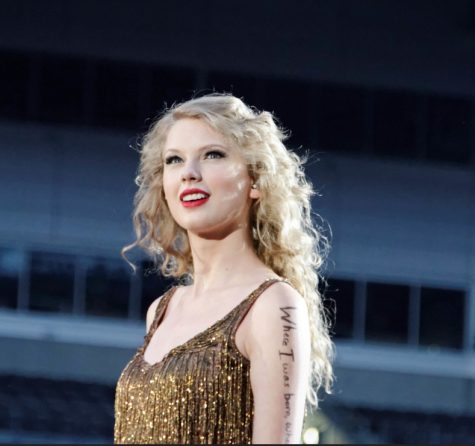 Taylor Swift is finally back on tour! Presale tickets for the tour went on sale November 15th. However, the overwhelming number of fans all trying to get tickets at once caused major issues with the buying process. Ticketmaster oversold tickets, randomly kicked people out of the queue after hours of waiting, and cancelled the general ticket sale due to an insufficient amount of tickets and glitches experienced during the presale. It's exciting that Swift is back on tour for her fans, but fans are now very frustrated with Ticketmaster for ruining their chances of seeing her live in concert. Her tour dates range from March through August.
Kim Kardashian's Dress Debacle
Kim Karadashian's Met Gala look this year was unforgettable. Not only because the look was beautiful, but because she wore the famous "Marilyn Monroe Happy Birthday Mr. President" dress that's around 60 years old and was hand crafted to fit Marilyn Monroe. Kardashian had to do many preparations to fit into the dress, since she and Monroe are completely different sizes. For example, Kardashian had to lose 16 pounds in three weeks just to get the dress on. Although she only wore the dress for a few minutes when entering the Met Gala for pictures, she quickly changed into a replica of the dress in order to reduce chances of damaging the dress. It caused a lot of controversy in the media because people thought it was disrespectful towards Monroe and the idea that her dress should be respected. Luckily, there wasn't any damage to the dress, but people still didn't like the fact that someone else felt like it was their place to wear that dress. The dress costs about $13,700 today.
Trisha Paytas's baby
Trisha Paytas gave birth to her baby, Malibu Barbie Paytas-Hacmon, on September 14th. The interesting part about this news is days before, Queen Elizabeth II of England passed away and Paytas had tweeted on Twitter that she was dilated and preparing to welcome her baby. Readers saw the tweet and then assumed she was going into labor and having her baby the same day the queen died, which started the rumor that Paytas's baby is the reincarnation of Queen Elizabeth. Many people found it very hilarious, but Paytas did not. The following day, Paytas cleared up the rumors and confirmed she was still very much pregnant and at the time was still waiting for the arrival of her baby. She expressed she was heavily embarrassed and apologized to the royal family for the rumor she didn't create.
Leave a Comment