Notable Figures of 2022
Women Referees in World Cup
Six female referees made history this year. For the first time in its existence, female referees were selected to officiate the FIFA men's World Cup. Stephanie Frappart, Salima Mukasanga, and Yamashita Yoshima were the three female referees chosen to officiate the World Cup. In addition to them, Bueza Black, Karen Diaz Medina, and Kathryn Nesbitt were assistant referees during the tournament as well. Frappart, who has won the IFFHS World's Best Women Referee Award every year since 2019, was the first woman to officiate a men's World Cup match on December 1, when Costa Rica played Germany.
Volodymir Zelensky
In 2022, Russia's invasion of Ukraine was a huge story, and has been making headlines since the initial invasion in February. Since then, Volodymir Zelensky, current president of Ukraine, has been trying to combat Russia's capture of his country. Zelensky made headlines this year for visiting the front-lines of the fighting in Ukraine, despite the danger it posed. Zelensky's strength as a leader in such a time has inspired many Ukranians to fight for their country, and his fortitude has certainly sparked resilience and hope in Ukraine in a time of war.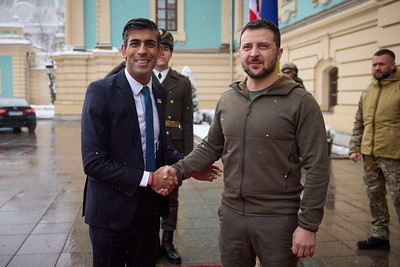 Rishi Sunak
In September, Britain saw Prime Minister Boris Johnson resign after three years. His spot was subsequently filled by Liz Truss, who only lasted 46 days as the Prime Minister. Rishi Sunak took over the position after her resignation making him the third Prime Minister in two months; Sunak is remains the acting Prime Minister of the United Kingdom, and is the first Prime Minister of color in the UK. As prime minister, Sunak is the head of the Government in the United Kingdom, and is in charge of government policies and decisions. With Britain facing major political and economic issues like soaring inflation and an economy that hasn't recovered since the pandemic, Sunak is the man in charge of helping Britain recover from these problems.
Emma Tucker
Emma Tucker has been named the new editor-in-chief of The Wall Street Journal. She is the first woman to ever assume this role for the WSJ. The title previously belonged to Matt Murray for the last four years. Tucker will officially take over the full role on February 1st, as Murray assists her with the transition. Before joining the WSJ, Tucker worked as the editor for the Sunday Times in London. "She will take over at a time of unprecedented volatility in the world on virtually every front — a time for The Journal to continue to double down on our core and on our unique role in society: delivering in-depth, insightful coverage of the business world and beyond," said The Journal's publisher, Alan Latour.
Leave a Comment