A Game With Many Storylines: Super Bowl LVII Preview
Sports columnist Patrick Storti previews this Sunday's big game between the Chiefs and Eagles.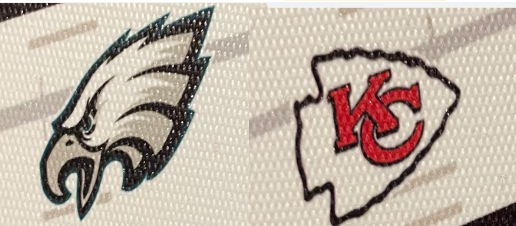 There are so many storylines ahead of Sunday's Super Bowl. Super Bowl LVII will feature the Kansas City Chiefs and Philadelphia Eagles. Patrick Mahomes vs. Jalen Hurts. Andy Reid vs. his former team. Travis Kelce vs. Jason Kelce. 
The Kansas City Chiefs are coming into their third Super Bowl appearance in four years, having last won it in the 2019 season. The Chiefs are led by superstar quarterback Patrick Mahomes, and future hall of fame head coach, Andy Reid. Along with that, the Chiefs have appeared in five straight AFC Championships. The Chiefs have established themselves as the face of the league, and gold standard. Another Super Bowl title here could establish the Chiefs as a dynasty. 
The Philadelphia Eagles are also coming in with recent success. This is the team's second Super Bowl appearance in five years, having won it in the 2017 season. However, unlike the Chiefs, the Eagles went through a total rebuild in between. The Eagles have a completely different team from five years ago, led by a new quarterback and head coach, that highlight the astonishing rebuild. After finishing 4-11-1 just two seasons ago, and uncertainty surrounding the whole franchise, the Eagles are already back in the Super Bowl. If the Eagles were to win this Super Bowl, it would go down as a total reload, which happens very rarely in professional sports.
One of the biggest storylines this Super Bowl presents is Andy Reid. Reid (head coach of the Chiefs) was the head coach of the Eagles for 14 years. Reid is amongst the most successful head coaches in Eagles history, going to four straight NFC Championships, and appearing in one Super Bowl. Reid also won six division titles and had nine playoff appearances in his 14 years there. Reid was an icon in the city of Brotherly Love and looks forward to facing his former team.
"It's a great organization. I've had 14 years there and I loved every minute of it," Reid said in an interview.
This is the first time ever that a set of brothers, Jason Kelce (Philadelphia Eagles center) and Travis Kelce (Kansas City Chiefs tight end), are going against each other in the Super Bowl. These two brothers are extremely close, they even have their own podcast that they make every Wednesday called "New Heights."They both went to college at the University of Cincinnati and played football there together for two years. Individually, each brother has had their own success, as both have won a Super Bowl. Combined, the Kelce brothers have been selected to 14x Pro Bowls, and 13x All Pro Teams. 
Another storyline of this game is that it is the first Super Bowl ever to feature two African American quarterbacks, one of which is Patrick Mahomes, quarterback of the Chiefs. Mahomes has put together a remarkable first five years of his career. He is undoubtedly the best quarterback in the NFL and has revolutionized the position. He won MVP his first season as a starter and has since set many NFL records, including the youngest quarterback ever to be named Super Bowl MVP. Through 75 games, Mahomes has the most wins ever, the most passing yards ever, and the most touchdown passes ever.
At just 24 years of age, Philadelphia Eagles quarterback Jalen Hurts highlights the youngest quarterback matchup in NFL history (Mahomes is 27). As a second year starter, Hurts has had quite the start to his career as well. Getting drafted as a backup to Carson Wentz, Hurts silenced the doubters fast when he took over the starting role in 2021 and shockingly brought the Eagles to the playoffs. This year, Hurts has been even better. Leading the Eagles to a 14-3 record, he is perhaps the most versatile quarterback in the NFL. Hurts had 22 passing touchdowns and 13 rushing touchdowns throughout the regular season. If it weren't for a late season injury, Hurts would be the favorite to win MVP.
The Super Bowl will take place this Sunday at 6:30 PM on FOX. I got the Eagles winning it, 27-24. Go Birds!
Leave a Comment