New Changes Strengthen Boys' Lacrosse Program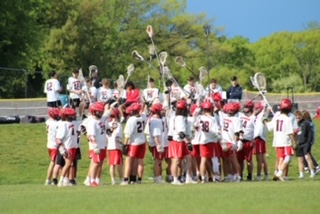 With strong wins against Delran (11-1), West Windsor (7-3), Nottingham (14-0), West Deptford (7-6), New Egypt (19-7), and Holy Cross (12-4) the Cinnaminson boys' lacrosse team is near the end of regular-season play with a 10-4 record and are second in the division behind Northern Burlington. 
Looking to improve on last season's 6-10 record, the boys seek redemption. At the helm of the team is science teacher Craig Angelini who returns to the team as head coach after taking several years off.
"Starting off with a new head coach the goal is always to create something that people want to be apart of and will continue with him, I mean Angelini was the one who started it and ran it for years prior but him coming back it switches up a lot of the things that we were used to and what we knew,"  Senior Captain Isaiah Ruiz said.
Besides having a new coach, the boys' lacrosse program has also expanded in size this season, allowing for its first freshman team.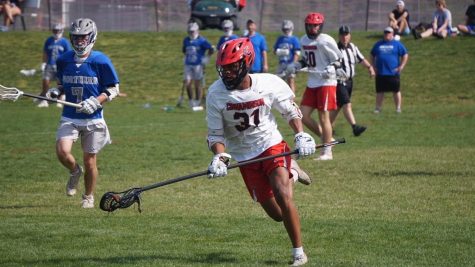 "This is the first time in program history that we have freshman JV and varsity teams," Angelini said. "That is probably the biggest change. We have a first freshman team."
While adapting to such changes can take time, the boys have been resilient and know they can always count on each other.
"They are always there to lift me up, no matter what they always cheer me up," senior Eoin Toryk said. Toryk has made over 100 saves as goalie this season. 
As one of seven seniors graduating at the end of the season, Ruiz talks about the mark he wants to leave on CHS. 
"Being a captain, I have to set a good example for them [underclassmen]," Ruiz said. "So I feel like I can't be that idiot who's running around and getting in trouble at school that is not doing what he needs to do. I feel like I need to have a good representation because when I leave, someone else has to take my position."  
Hoping to make up for their loss against rival Northern Burlington from earlier in the season, the boys fell short to the Greyhounds on Friday for the second time this season and broke their four-game winning streak. 
"Northern Burlington's team was the team that I have always scrapped with since I played with Cinnaminson lacrosse they have always been aggressive and a fighter to us and that is a lot of enjoyment to have those good games," Ruiz said.
The Pirates will face Washington Township home on tomorrow at 3:45 p.m.
Leave a Comment