Cinnaminson Boys' Tennis Looks to Rebuild Using New Talent
The Cinnaminson boys' tennis team is entering this season with a specific goal in mind: to rebuild the team. After a difficult season last year and the graduation of six seniors, the team is trying to work on reestablishing a solid base. 
"Losing six seniors in any program is a big loss but especially tennis when only seven players are playing varsity," Head Coach Mike Fries said. "We miss those seniors, but the players gained valuable knowledge from them from last season and are using it to their advantage." 
The team is also looking to be aggressive with their team record in order to improve upon last year, where the team went 2-14.
"I would say that coming into the season, in a sense this would be a little bit of a rebuild, in the idea that you don't have anybody playing singles or doubles that their first sport is tennis," Assistant Coach Patrick McNamara said. "We have to have reasonable expectations for the team record while also pushing them to try and compete and pushing them past the level they think they can get to." 
At this point in the season, this has been a success. The team currently has a record of 5-9 with two matches still remaining. 
Overall, the team has a lot of talent. However, a lack of depth and experience has proven to be a bit of an issue. 
"I'd say we have strong first singles, and we have many strong candidates… we have a lot of strong players, our problem is that we don't have enough to fill roles," junior Dean Santarlas said.
The coaches shared a similar view of the team's makeup. 
"We have a bunch of really good kids that work hard, but just honestly, we have a team this year that just doesn't have a lot of varsity experience…it's basically a lot of kids that are experiencing varsity matches for the first time," McNamara said.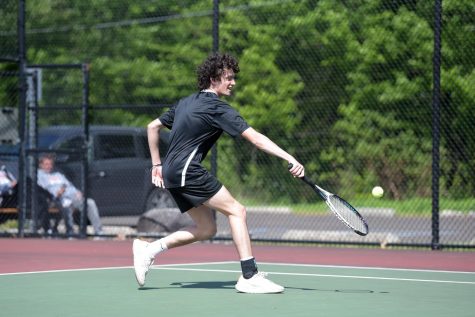 Although many of the players this year don't have a lot of experience, there have been a few pleasant surprises, including Colin Parish and Drew Harvey, both of whom are sophomores and first-year tennis players. 
"This year we got two of our starting basketball players in Drew Harvey and Parish to come out for the team, and they are both on the varsity lineup – kind of impressive, as they've never played tennis before… Drew Harvey's been the most impressive part of the season so far I would say because he's never played. He's our third singles player, and he's extremely natural and athletic at it, so that's been a nice surprise," McNamara said.
Recruitment can sometimes prove to be an issue for the team due to competition with other spring sports. 
"To build our roster, I think we've got to start looking at kids that maybe don't play a spring sport that are good athletes…when you have a spring season at the high school when you have perennial teams that are very good like track and baseball, and then lacrosse is growing, it's hard to build your numbers up,"  McNamara said.
When asked if he had advice for boys looking to join the team, captain Evan Kozuch stressed patience. 
"It takes a while to get used to – you've just got to take your time," Kozuch said. 
Kuzoch currently has a winning record, and made an impressive stand at a recent Burlington County Open where he beat the first singles player from a Group IV school in order to advance to the second round of the tournament. 
Santarlas also had words of encouragement for those considering tennis.
"You might as well just go for it. We had someone just join the team this year and they're already playing third singles," Santarlas said in reference to Harvey. 
Although tennis requires lots of technical skill, McNamara also said that a player can go far with agility and a competitive drive. 
"A will to win is super important. If you have a strong desire to win you can overcome some matches where maybe you're a little behind in the talent level, but you're playing someone who maybe doesn't have that same drive," McNamara said.
Leave a Comment