Kramer Takes on New Role at CHS
More stories from Amira Brown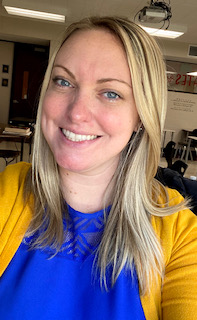 After eight years of teaching math at CHS, Ms. Kimberly Kramer is taking on a new position as a school counselor, working specifically with students whose last names are in the beginning of the alphabet: A-F.
Kramer took on this journey, after a self-realization during her time teaching math.
"So as I was a teacher right and working with students I noticed that I got really excited whenever my students would ask me questions about college or postsecondary plans," Kramer said. "And you know I realized that, that would be a way for me to continue to help students but in a different way other than academically in the classroom. So I was just really excited about it and thought that it would be a good fit."
Kramer worked hard for three years to achieve the education necessary to achieve her degree in school counseling. She took two years of classes and one year of an internship while being a full-time math teacher.  
Kramer completed her internship, here at CHS, with former school counselor, Mr. Ferrante. 
"And once I completed my internship and had those three years of grad school I received my masters of education and school counseling. And Mr. Ferrante announced his retirement and I went through the application process here," Kramer explained.
While Kramer said she did feel scared taking on this new role, she felt a sense of confidence due to her experience with the school.
"I graduated from here, I was a math teacher here, I coach here, I did my internship here, I know the staff, I know some of the students, so that helped ease my fears and stress coming into the new position," Kramer said.
While Kramer said she will always love the content and job of teaching math, she's looking forward to her years as a school counselor.
"I'm really excited. I'm really looking forward to taking on this new role and I'm excited to see what this year has in store for all of us, myself, my students, and my colleagues," Kramer said.
View Comments (2)