Summer "United CHS Reads" 2021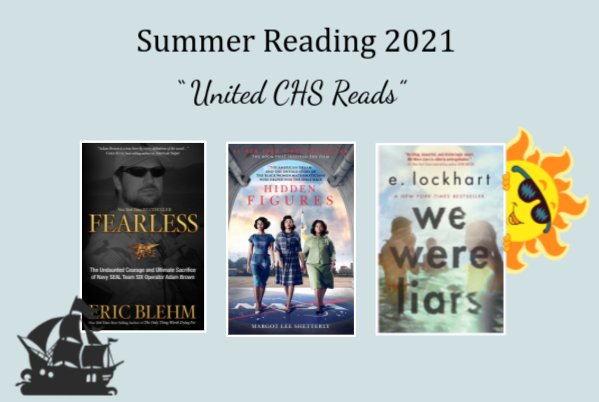 This year's annual "United CHS Reads" summer reading program allows students to choose which book they want to read from a list of three bestselling books selected by the Summer Reading Committee. Students can choose from We Were Liars, Fearless, or Hidden Figures: The American Dream and the Untold Story of the Black Women Who Helped Win the Space Race to read and complete their summer reading assignment.
Unlike several years ago when all of CHS read the same book, the summer reading committee wanted to build off of last year's success by giving students different reading options.
"We hope with the options available to people that it will create more of an intrinsic drive to allow students to choose something that they would enjoy," Mr. Kind said. "Our three selections this summer are very diverse and will hopefully span the gamut of desires for students."
The summer reading committee tasked with selecting the summer reading books is composed of students, parents, teachers, Board of Education members, ELA supervisor Charles Kind, and administration, including Mr. Ryan Gorman and Dr. Frank Goulburn.
After discussing the different books during this year's meeting, committee members ultimately agreed on the three previously mentioned. Although Trevor Noah's Born a Crime was considered, it did not get enough votes to make it an official summer reading selection.
"It lost the vote because it was just too profane at times," Mr. Kind said. "The content is amazing in terms of world literature, but the amount of cursing and inappropriateness is just too much for our district to stand behind for a summer read."
As a student representative on the committee, senior Olivia Rozenberg participated in the book selection process.
"You were given three books to read, and you have about a month and half to read," Rozenberg said. "When I read, I take notes on the pros and cons of each book and if it's actually a good book – the language, the writing of it, and if it's actually what high schoolers would read."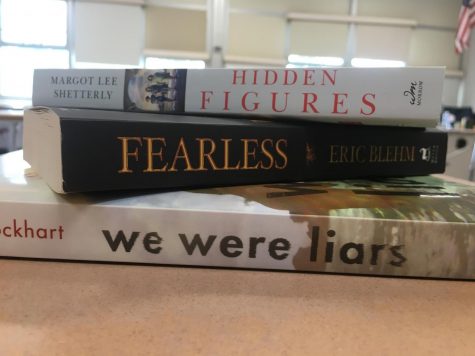 Having read all the books, Rozenberg said she really enjoyed We Were Liars.
E. Lockhart's We Were Liars is the only fictional option of the three. It tells about Cadence Sinclair's childhood summers spent at the beach until an accident occurs. Featuring a surprising plot twist, We Were Liars is described as the perfect "beach read."
Like Rozenberg, Ms. Forbes' favorite among the three books is We Were Liars. Having read it before, Ms. Forbes said she has wanted to incorporate the text in her class.
"We Were Liars [was my favorite] because of the psychological mystery (as the psych teacher!)," Ms. Forbes said. "When we didn't use it, I always had a goal of using it at the end of the year in psychology, which shows how much I like it!"
Eric Blehm's Fearless shares the inspiring life story of Adam Brown who tragically lost his life while serving in Afghanistan. Brown had overcome many struggles, including addiction, to become a US Navy SEAL Team Six member. The moving biography depicts Brown's selflessness and courage in protecting his family, faith, and country.
"Fearless is a captivating story about a young man who overcomes so much and ultimately gives his life for this country, and it is a great story," Mr. Kind said.
The final book option, Hidden Figures: The American Dream and the Untold Story of the Black Women Who Helped Win the Space Race, provides a detailed narrative about the African-American women who helped NASA win the space race. The 2017 film Hidden Figures is based on Margot Lee Shetterly's novel describing the triumphs and struggles of the women who overcame racism and sexism to bring new knowledge and understanding to the field of aerodynamics.
"Hidden Figures is a really interesting look at the women who helped us win the space race and what they had to overcome on a daily basis in order to do their jobs and be taken seriously," Mr. Kind said.
Unlike last year's hashtag assignment and identification of literary devices in each book, this year's assignment is a double entry journal. Students will identify interesting and significant passages from their book and share their personal reactions to these passages. The summer reading assignment is due the first day of school.
Leave a Comment