CMS Student Lily Nichols Turns Tragedy into Triumph
11 year-old Lily Nichols became famous across the nation last week when she became the youngest person ever to win the culinary competition, Chopped, on the Food Network.  In Cinnaminson, she became a legend in our small town because of her victory and the journey she took with her family to be there.
Currently, Nichols is a sixth grader at Cinnaminson Middle School who has been cooking since she was three. Her culinary background is what led her to audition for Chopped.
As a fan of the show, she has seen many commercials advertising the adrenaline-pumping competition. Upon viewing one of these commercials with her cousin, she was inspired to be on the show.
Nichols explained that she had "to perform two phone interviews and then go to New York for an in-person interview."
After the series of interviews, Nichols was rewarded with a spot on the first-ever episode of Chopped Kids called "Short Order Cooks." This past spring, from April 3-5, she and three other young chefs (Christopher Pappas, Mona Ziabari and Eitan Bernath) from across the nation were filmed on the Chopped set in New York.
The competition consists of incorporating four, often uncomplimentary, ingredients from a mystery basket presented to them into three different courses: appetizer, entrée, and dessert. With each round, competitors receive a new mystery basket with four new ingredients. A panel of celebrity chefs then critique each dish. The person who ranks the lowest on a scale of taste, presentation, and creativity after each round is eliminated or "chopped".
In the appetizer round, Nichols impressed the judges by making "Mom Mom's Meatball Slider with Cotton Candy Coconut Milk Sauce" using ground beef, tomatoes, slider buns, and cotton candy. The only criticism she received was the mention that her meatball needed more flavor. In the entrée round, she created a flatbread with broccoli rabe, pizza dough, chicken, and sour gummy candy.
By the dessert round, only Nichols and one other competitor, Mona Ziabari, remained. The ingredients for the final round were vanilla ice cream, canned icing, banana pudding, and brownie mix. She used this ingredients, as well as fresh fruit, to make a "Fresh and Fruity Trifle".
The judges deliberated and made a tough decision. The two competitors were neck and neck, but in the end, Nichols was heard the news that she hoped for—that she had won.
After the dramatic reveal of the results, Nichols says she wanted to scream, but "didn't want to make her [her competitor] feel bad."
She was awarded $10,000 and the eternal title of Chopped Champion.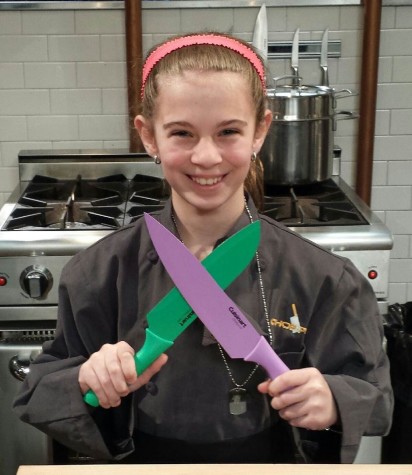 The victory, however, was bittersweet. She delivered the news to her father Jeffrey Nichols who had been in the hospital due to suffering a traumatic brain injury (TBI) on September 29th, 2013. "Although he couldn't really speak," she explained, "I knew he was so proud of me."  Lily was happy to be able to give her father a moment of joy before his passing three days after the filming of the show.
Outside of her passion for cooking, Nichols had also been inspired to be on Chopped to bring awareness of TBI for her father's sake and is now using the publicity from the show as a way to educate others about TBI.  "No one really hears of it or pays much attention to it," she explains. Compared to diseases like breast cancer that have a month devoted to them, TBI isn't something people think to raise awareness for. Lily feels differently.  And her airing on national television has helped her belief.
After the airing of the show on September 30th, 2014 there has been an influx of support for the Nichols family. On a Facebook post from FOX 29 about Lily, there were 442 shares, 4,866 likes, and 239 comments. That is just one example of how much buzz there is in our community about Lily. Almost every news station in the Philadelphia area has interviewed Lily. At the age of 11, she's most likely been in more television interviews and newspaper articles than a majority of people in Cinnaminson.
Superintendent of Schools, Dr. Illuzzi, wrote an email previewing Lily's appearance on the show and her journey, saying, "The airing of this show is bittersweet for her family," he continued, "No matter what the outcome of the show, please help in congratulating her for being so courageous and resilient during the most tragic time of her life."
Lily's mom, Lisa Nichols, puts it best when she says "my phone has been blowing up since the airing of the show and the community of Cinnaminson has been amazing during our journey.  Cinnaminson should be very proud because they need to know what an amazing community this is.  I cannot say how grateful we are for the support, and the majority of it is from people I don't know.  They have all touched my family and my heart."
Throughout the unimaginable, Lily has been able to make the best out of the situation. A terrible tragedy became the start of Lily Nichols who has her sight set on becoming a chef, in honor of her late father.
Editor-in-Chief Megan Morris contributed to this article.