Softball Builds Upon Last Season's Success
The 2023 Lady Pirates softball team continues to thrive, building upon last season's success when they finished with a 12-10 record. Despite losing to Sterling in the second round of playoffs last season, the girls are engaged and determined to keep performing at the highest level. The girls are currently 17-3 and have added a freshman team for the first time in 10 years.
With a current Patriot division record of 7-1, the Lady Pirates clinched the division title for the first time in 17 years.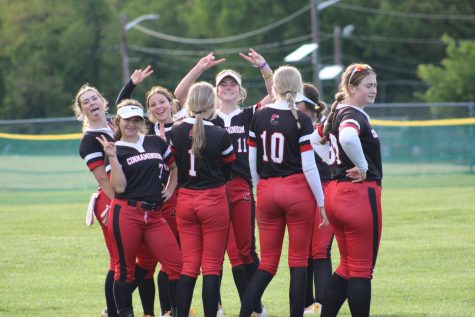 As a former baseball coach, this is math teacher Louis Arnold's second season as head coach of the Pirates softball team. He reflects on the major improvements he's noticed among the team, and how much the girls have been growing together. 
"We were off to a slow start, but all of the sudden we've won four in a row, we're kinda clicking," Arnold said. "Everybody seems to really be gelling together as a team, and we seem to be headed in the right direction."
With the state playoffs approaching, Arnold keeps the team focused with their season goals and improving their skills.
"We always want to try to give ourselves a great chance in the state playoffs," Arnold said. "Right now we are looking at a four-seed, which is really awesome. And then just trying to go as far as we can."
One of the team's biggest wins was against Haddon Heights, with a final score of 2-1. Senior captain Zara MacNair scored twice and had two hits with a double for Cinnaminson. She also scored her 100th career hit against Burlington City. MacNair sees this victory as a step in the right direction for the program. 
"We just beat Haddon Heights, and that was a huge win for us," MacNair said. "Not only just for our record, but for the overall softball program in general."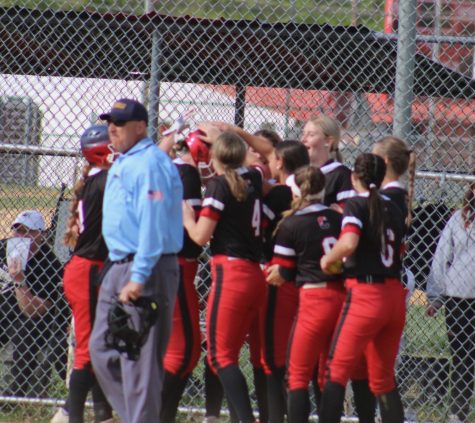 Junior Kayla Meenan has also noticed a major improvement in comparison to last year, particularly on offense. 
"I think this season we are a lot more aggressive offensively and we have a really tight defense," Meenan said, "and we're learning to win by the inning, and go back and view the teams competitively instead of giving up and getting complacent."
In comparison to the past 10 years, this current season the Cinnaminson softball team has a freshman team, which shows the community's interest in this sport.  Meenan said she feels positive about the team's future. 
"I feel really good about the future of this team because since we were so young last year and the year before," Meenan said, "we're really just moving up together, and I know that the people coming up to the high school next year are really good, and they're ready to work hard, so I think this team has a really good future."
Along with the wins and successes, there is a strong connection established between the players. As one of two seniors on the team, MacNair said she is ready to see the future performances from the girls. 
"I am just extremely proud of everyone and I love these girls more than anything," MacNair said. "I'm excited to see how the program will be in the future."
Leave a Comment