Girls' Lacrosse Hopes To Make History With Upcoming Game
 For the first time in 30 years, the girls' lacrosse team is one win away from clinching the divisional title. A win against Burlington City on Wednesday, May 17 would secure their place atop the division for the first time in 30 years. The groundwork for this task was pulled off when the team defeated Northern Burlington, a big rival, 8-3, thus taking their number one spot early in the season.
Despite the team making history, this season has not been without its obstacles though, including the graduation of six seniors at the end of last season.
"The six seniors last year definitely left a hole to be filled, considering they were all starters from all over the field," Head Coach Laura Curran said. "However, the now seniors and current sophomores specifically have jumped right into those holes and have made a seamless transition to their leading roles and new starting positions."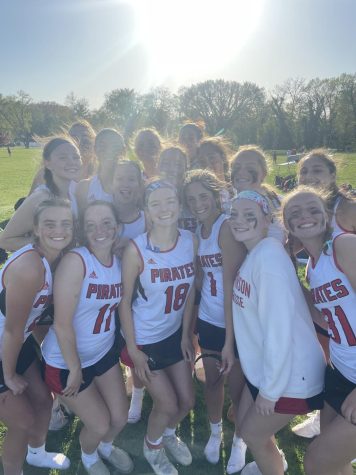 Among the skillful players is senior Brooke Sztenderowicz, who said she is very proud of the team's historic win.
"This is the first time in 30-something years that we were actually able to win it," Sztenderowicz said. "Cause RV is not in it and RV is always a really good lacrosse team."
Coach Curran echoed Sztenderowicz's statements.
"We are doing really well this season," Curran said. "Stat-wise we are right around the same number of goals scored, and we currently have more 'caused turnovers' now than we did all season last year, at 110."
Sophomore Megan Nelson has led the team in goals, scoring more than 40 this season. At Monday's game against Timber Creek, Nelson secured her 100th career draw control. She attributes her success to practicing in different roles.  
"I practice with my non-dominant hand," Nelson said. "I go out in my backyard and have a pass with the rebounder. I shoot on my net. I just do things to better myself and my work on my conditioning too. Just to better me as an athlete."
Beside the athleticism of it all, the team is a close group of players who are always working to better themselves and each other. When asked about some memorable moments from the season, Sztenderowicz shared the things she will miss. 
"I will miss all of the team chemistry and how much fun we have at practices," Sztenderowicz said. "The games, the bus ride to the games and pregame traditions."
With recent wins against Bishop Eustace and Timber Creek, the girls' record is currently 10-4. The Lady Pirates will play Burlington City away on Wednesday at 3:45 p.m. in pursuit of the divisional title.
View Comments(1)