Oscars Predictions 2023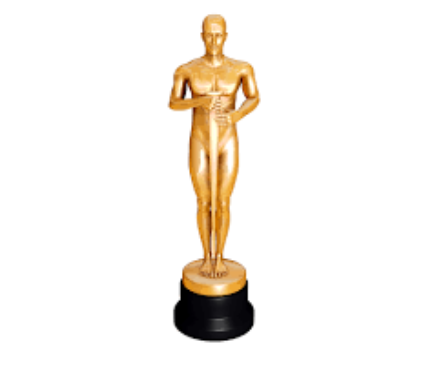 It's that time of the year again – awards season! This year's Oscars will be hosted at the Dolby Theater in Hollywood tonight at 8 p.m.
While the Oscars are a huge honor, there are many aspects of it that make it one of the most exciting of the award shows. Most attendees go all out and wear beautiful gowns adorned with expensive jewelry. For example, Lady Gaga wore the famous Tiffany Diamond necklace in 2019, which was worn by two other people besides Gaga. Then there are the iconic moments that happen at the Oscars. Who can forget last year's ceremony when Chris Rock made a joke about Will Smith's wife, which Smith didn't appreciate at all. He walked up to Rock and slapped him across the face. Celebrities in the audience were confused at first, thinking this was all a part of the joke. It was not. Smith is now banned from the Oscars for 10 years. Another iconic moment was when "La La Land" had been accidentally announced for Best Picture when the movie that truly won was "Moonlight." Both fans and celebrities alike were shocked that a mix-up like this could happen on the big stage. Thus, as you can see, the Oscars are so much more than just an awards show. It is a place where actors and actresses are appreciated, acknowledged, and celebrated for their work. 
My Oscar selections: 
Actor in a leading role – Brendan Fraser, "The Whale"
After saying he felt like he was "blacklisted" from Hollywood, Fraser made his reappearance in Hollywood. Fraser gives an emotional and intriguing performance in "The Whale." The story follows an English teacher who is quite literally eating himself to death. He hides away, ashamed of what he has become until he realizes he finally wants a second chance. This is when he tries to rekindle his relationship with his daughter, (Sadie Sink) Ellie. Every part of this movie was beautifully done. Fraser deserves the Oscar more than anyone else. For his first movie since he took a break, it is truly one of the best performances I have ever seen. 
Actor in a supporting role – Ke Huy Quan, "Everything Everywhere All at Once"
Ke Huy Quan, is mostly known for playing Data in "The Goonies" and Short Round in "Indiana Jones and the Temple of Doom." This is Quan's first nomination, and he is over the moon about it. In an interview with "Good Morning America," he expressed his excitement, saying he was "jumping up and down." Quan was also nominated for a Golden Globe, which he won, and delivered an emotional speech to the audience. He gives credit to Steven Spielberg, who aided Quan on his debut movie as Short Round. "Everything Everywhere All at Once" is a mind-bending movie, but with sweet undertones. Evelyn Quan (Michelle Yeoh) is struggling with a lot in her life, between her divorce with her ex-husband, and her family not being accepting of her non-Chinese girlfriend. There's a lot of stress put on her, until her reality is shifted (quite literally). After a meeting with the IRS, Waymond (Ke Huy Quan) visits Quan, but he is not Waymond. He is called "Alpha Waymond." He explains parallel universes and alphaverses to her, which Quan has to weave her way through and try to make sense of it, especially when she is going through an emotional time. If anyone deserves an Oscar it is Key Huy Quan. He has been in some of the most iconic movies to date. He was involved in so many viewers' childhoods, and most don't even know it. This would give Quan the recognition he deserves. 
Actress in a leading role – Ana De Armas, "Blonde" 
This movie is based on a novel that follows a fictionalized life of Marilyn Monroe. Armas, who plays Marilyn, received her first Oscar nomination for this film. The movie was somewhat alarming to fans, since the book was very controversial. The author of the book wrote very dramatized versions of Monroe's life. Nonetheless, this movie was not only intriguing, but heartbreaking. Armas gave one of the best performances I have ever seen her do. She has been in other movies like "Knives Out" and "Blade Runner 2049." Not only does she look like Monroe, but she conveys her mannerisms perfectly too! 
Actress in a supporting role – Hong Chau, "The Whale" 
Hong Chau, who plays Liz in this movie, was just the character that Charlie (Brendan Fraser) needed. She is always there for him, but not afraid to snap him back into reality. She helps him realize that he needs to do something with his life, or nothing good will come of it. Liz is also a close friend of Charlie, which makes her character so much more real. She tries her best to not only take care of her friend, but also be supportive. 
Cinematography – Mandy Walker, "Elvis"
Everyone knows Elvis as the King of Rock & Roll. This movie not only had great acting, but the cinematography had a big impact on the movie. Every scene had something to look at besides the actors. It was such a pleasing movie to the eye. There were bright colors in the beginning, showing Elvis' rise to fame, but as the movie progressed, the color scheme got darker and almost depressing. 
Costume Design – Ruth Carter, "Black Panther: Wakanda Forever" 
The movie in itself was beyond what I had expected and was full of emotion and action. It had Marvel's signature comedy/emotional duo. On the other hand, the costumes also brought the film to life. Carter used bright colors, as well as gathered information from certain African tribes, like the Maasai or Ndebelbe, to accentuate the authenticity of the costumes. These garments normally entailed bright colors, as well as brightly colored jewelry or beads. You can see the inspiration represented in the movie. The Royals all have extravagant outfits, as well as headpieces, which are typically worn by Angela Bassett. 
Makeup and Hairstyling – Naomi Donne, Mike Marino, and Mike Fontaine, "The Batman" 
For "The Batman," the makeup team completely transformed some of its actors and made them unrecognizable. For Colin Farrell, who played The Penguin, they used tons of prosthetic makeup to make this character their own. Makeup is so much more than just foundation, blush, and eye shadow. For this film, the team utilized prosthetics and showed the artistic aspect of makeup. Intense makeup like this can require hours worth of preparation before scenes. But certain makeup prosthetics are much needed in order to accentuate the character's role and for the actor to embody the character. (Honorable Mention – The Whale) 
Best Picture – James Cameron and Jon Landau, "Avatar: The Way of Water"
After 14 years, Cameron gave us the sequel to one of the most technologically advanced movies of 2009. After spending billions of dollars working on this movie, it is finally here. "Avatar" debuted December 16 and has since made $2.1 billion at the box office. This movie has been long awaited, and since it was released it was a big hit. Every part of this movie was pleasing; it felt like a good sequel to the first one, questions were answered, and we got more information about the other Na'vi people. This movie was a pleasure to watch, and considering it was only three hours long, I was shocked. I thought after 14 years, it would be so much longer, but they cut it to three hours. I would have liked a little more, but other than that, the movie was wonderful. 
Leave a Comment