The Boys Volleyball Team Improves on Last Season's Record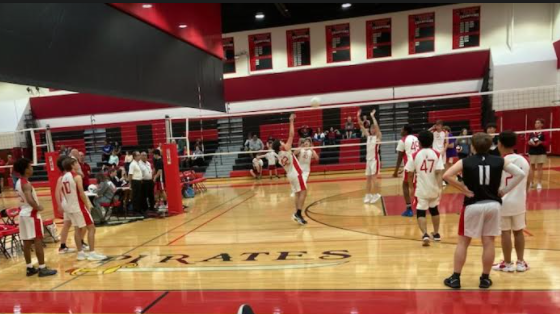 Closing out their season with a 9-15 record, the boys' volleyball team finished third in the BCSL Patriot division behind Moorestown and Collingswood. The boys showed improvement since their 6-11 record last spring.
The Pirates started strong with a three-game winning streak in the beginning of the season against Burlington City, West Windsor-Plainsboro North, and Pennsauken.
Captain Jarrett Edwards, a sophomore, is proud of the team's drive to succeed.
"It can definitely be going better, but we play our best every day," Edwards said. "We do what we can and if this is the best we can do, it's good enough for me."
The team secured two additional wins against Burlington City, including one in the first round of the BCSL tournament on May 18.
Ryland Ross is a returning senior on the varsity team. Although he graduates at the end of this season, he is confident next season's team will succeed.
"They can improve off of this year and do even better next year," Ross said.
Ross led the team in blocks while senior Avery Stewart finished with 11 kills. Senior Greyson Cooney finished with the most assists at 23.
With eight seniors graduating come June, the team will need to rebuild and rely on underclassmen to step up to the varsity level and improve upon their skills.
As the junior varsity coach, Mr. Charles Casey is encouraging his players to push themselves towards varsity play.
"I think keeping everyone that played this year and coming back next year is I think my personal goal as a coach," Casey said.
Leave a Comment