New Coach Brings CHS Baseball New Perspective
The boy's baseball team currently sits with a record of 10-6 and are second in the Burlington County Scholastic League (BCSL) behind Delran. The team's motivation and drive to be better have fueled their successes this season.
This year's roster consists of four seniors, 12 juniors, four sophomores, and two freshmen, with a majority of the team returning next season.
Head Coach Eric Teesdale is coaching the varsity baseball team for the first time this year.
"We definitely have a lot of players getting their first full varsity season under their belt, so it's going to come with some ups and downs, but definitely a lot of potential," Teesdale said.
Sophomore Charles Smith has currently pitched 33 strikeouts, an example of returning potential. He was recently voted the top sophomore pitcher in the state.
Teesdale thinks that the structure of baseball is great for adjusting and improving throughout the season.
"What's great about the sport is you make adjustments and the results will follow," Teesdale said.
This will be key in overcoming any obstacle that the team faces as the season progresses.
Daulton McDonald, a junior, is playing his first full year on the varsity team.
"A lot more work has to be put in to see the results that you want from yourself," McDonald said about playing at the varsity level.
McDonald said he thinks that the jump from JV to varsity was a big adjustment for some, but the team has risen to the challenge and consistently works hard.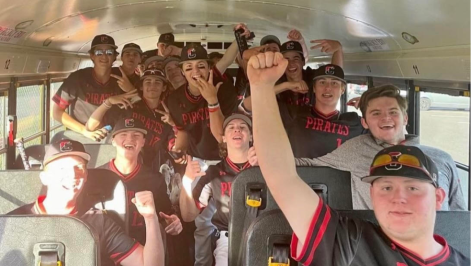 Not only has the team worked hard, but they have also developed strong friendships.
"I think it's a group of kids that all genuinely like being around each other so at team dinners we hang out for a very long time," senior captain Sean Kennedy said.
Both Teesdale and Kennedy agree that the team enjoys being around each other and there is true camaraderie.
"My message since preseason is [that] this team is very close knit," Teesdale said. "I think they get along really well, and I think when we have these struggling points during the year that is when the value of that is going to come into play."
As it is Teesdale's first year of coaching varsity, the team has welcomed a new perspective.
"[This season there is] a drive within a team to do better and get respect. I think in past seasons we kind of were complacent at times with our losses that if we lose against a good team we were happy and if we beat a bad team we were happy," Kennedy said. "I don't think so much of complacency with that trade off now. I think we go into every game wanting to win."
According to McDonald, the team also "focused on certain things that we didn't focus on last year that I think has overall helped us as a program," most specifically during the preseason.
Teesdale is grateful that the team has been accepting of his thoughts and coaching.
"I've loved every minute of it," Teesdale said. "I think being around that group I'm very fortunate that they buy into me, they buy into what I'm saying and what I bring that's new to the program… baseball is a big passion in my life and I'm just happy to kind of bring those athletes here."
Moving forward, the Pirates are excited to see how far they can go in the playoffs and see their full potential.
For Teesdale, "[the] more important stuff is being the best we can be."
As statistics and games stack up, the Pirates learn from their mistakes and move onto the next game, getting better each week.
Senior Colin Kind leads in number of runs batted in. He currently has 17.
Kennedy says one of his personal goals is to "help the team win as much as possible. If I can make a play or get a hit, add some crucial points in a game, that's really all I want to do."
Kennedy currently leads the team in both batting hits and runs. He has 15 hits and 19 runs. McDonald, following close behind, has 14 runs.
As the team improves, bigger goals come into focus.
"I think the goal for the team should be to win the sectional finals and to make a name for ourselves in New Jersey [as a top team]," Kennedy said.
The team is ready to meet their BCSL rivals as the season continues.
"I think the BCSL definitely has a good pool of talent, but I think we fit right in with those guys and have a very strong group of athletes," Teesdale said.
The team's Senior Night game will be next Tuesday, May 24 at Memorial Park at 6 p.m. against Riverside High School.
Leave a Comment