Girls Softball is Heading to Playoffs
The 2022 Cinnaminson High School softball team is looking to keep their winning streak alive and make it far in the playoffs this season. Despite the team consisting of mostly underclassmen, the team is improving on last season's 4-13 record. Finishing off the regular season with six straight wins, the Lady Pirates are currently 12-9 and third in the division. During their last regular-season game against New Egypt, who they lost to earlier in the season, they clinched a 2-1 win in extra innings.
This season is Head Coach Louis Arnold's first season as a softball coach, and according to him, his experience as a baseball coach is very different.
"Very different, anybody that says baseball and softball are similar has no idea and has never experienced both sides of it," Arnold said. "While it does have its similarities, it is an extremely different game and should be treated as such."
He says the girls have been helping him learn the differences between softball and baseball.
"It's going really well, the girls have been extremely welcoming to me," Arnold said. "They have been really receptive to all things I have tried to implement and really a whole lot of fun really enjoyed my time."
Junior Captain Zara MacNair reflected on how the team has changed from last season to this season and how the team culture has shifted.
"All of the players are new and we have a lot more talent coming in and a lot of it has grown as well as our returning players are a lot more motivated," MacNair said.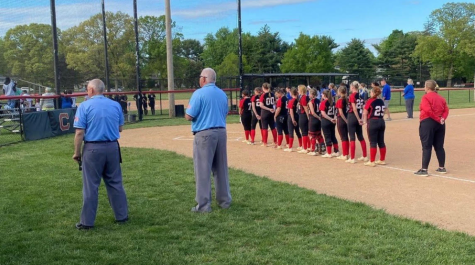 Coach Arnold explained that the team is in a good position to accomplish two of their beginning-of-the-season goals: having more wins than losses and having a home playoff game.
"Right now, we won our last three games so we are playing really well all together, we are playing as a team, everything is starting to click," Arnold said. "We are at a part of our schedule where we have won the past three games and we are looking to continue to improve on that."
MacNair expressed similar goals remaining for the season.
"Our goals are to win as many games as we can and to do well in our upcoming Palmyra tournament and to get as far as possible into the playoffs," MacNair said.
One of the leaders of the team is MacNair with 39 hits and 31 runs. MacNair is also a team captain.
"I am one of the captains so I basically am a leader on the team, and I make sure everyone is keeping their heads up as well as outside of softball helping with the booster club and helping setting up things for senior night," MacNair said.
Arnold explained that for softball the players, as well as the coaches, have a say in who the captains are.
"Captains have shown various things – way too many for me to even name as far as why they are who they are," Arnold said. "I kind of even leave that up to the players as well to think about what kind of qualities they feel represent a leader and I encourage them to use those values that they have when they are selecting their choices for captains."
The team has worked hard to keep up with the strong competition they have been playing throughout this season. Junior Ella Straub talks about some of the competition and closest games that they have had this season so far.
"Delran and Riverside both times we played them the games went back and forth and by the second time that we played both of those teams we eventually came out with a win," Straub said.
Coach Arnold shared Straub's view, adding that specifically early on in the season, they faced some strong competition.
"[There have been games] that we would go into or the team has gone into saying that 'this is not looking good, they beat [us] pretty bad before.' Teams like Northern Burlington, Moorestown, and Burlington Township," Arnold said. "We found ourselves in close games with all of these teams this year. I think that has helped the girls to gain confidence to realize that we are a good team as well and we deserve to be in the same breath as some of these teams."
As the playoffs season is approaching, Straub is looking forward to the competition.
"The end of the season because it's when things start to get exciting especially when playoffs are coming around," Straub said.
The Lady Pirates have their first playoff game at home on Tuesday, May 17 at 4 p.m. against Haddonfield Memorial.
Leave a Comment