New Opportunities for Winter Cheer Team this Season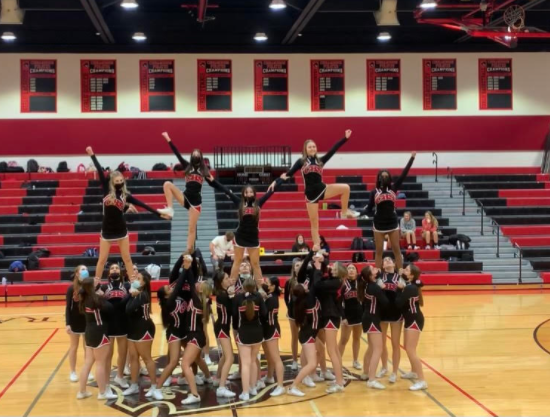 The 2021 Winter Cheer team is continuing their cheerleading season at the boys' and girls' home basketball games. After cheering to empty stands last year due to Covid-19 restrictions, the girls are excited to have an audience for their performances once again.
Ms. Kimberly Kramer, head coach, is leading the team to help meet their expectations and set goals for the 2021 season.
"To continue to push ourselves with trying different stunts and learning new skills," Coach Kramer explained as some of her expectations for this season.
Junior Erin Clark is a flyer on the team and is excited to perform their routines, which involve more stunts.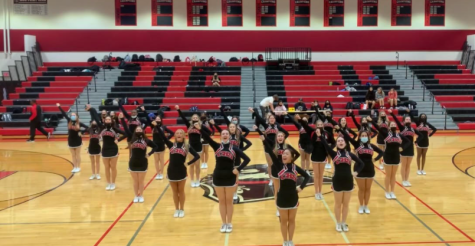 "My goals for the rest of the season are to improve my flexibility and for the cheer team, to do more complex stunts like with pyramids and things," Clark said. "Due to Covid, it's really hard because some of the girls are missing and have to quarantine. Once we all get together it's going to be really fun because we want to show the crowd the cool stunts that we are going to be able to do. We started working on some, but it's going to be amazing whenever we actually get to perform them for the crowd to see."
Seniors Whitney Nguyen, Lauren DiGiacomo, and Natalie Stein are continuing in their roles as captains from the fall for the winter team.
"They're very responsible, they take initiative to kind of make corrections on their own, which I find really helpful as a coach," Kramer said. "They kind of take on some of coaching responsibilities as well when making sure that the team is following their lead and they're just very reliable."
Along with Coach Kramer's comments, Clark added that the captains have improved team morale and inspired her to take on more leadership roles herself. Clark has the aspiration of becoming a cheer captain next year.
"My captains have advised us and some of the other juniors to be more vocal with the girls so I just really want to help lift their spirits and just give good corrections so that we can improve the team overall," Clark said.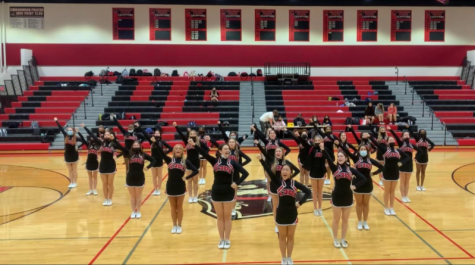 While Covid-19 is still impacting the team regarding quarantines, it has also brought new opportunities and changes for girls. Unlike last year, the girls are able to perform their halftime routines and stunts without masks, however, they must keep them on while cheering from the sidelines. Additionally, with the return of in-person fans, the cheerleaders have shifted to the players' side of the gym in order to distance athletes from spectators. Despite some lingering Covid restrictions, the cheer team hopes to gain more crowd involvement.
"This season is different based on the number of cheerleaders, there are definitely more cheerleaders this year than we had last year," Kramer said.
Clark commented on how the increase in the number of girls on the team has allowed for more camaraderie.
This year there are more girls than the previous years so we get to do more complex pyramids, and there's more like stunt groups and I feel like our cheer team as a whole really bonded this year too and we just sound amazing, and I am just really excited for the crowd to see us," Clark said.
Similarly, there's also a larger fan base for the Pirates this season.
"We now have an audience to cheer for since it's more than just parents that are there," Stein said. "We are having multiple students and other crowd members."
The winter cheer team looks forward to accomplishing the rest of their goals and finishing the season strong. If you would like to see the cheer team, support the Boys' and Girls' basketball teams at their home games! The Boys have a home basketball game tonight at 5:15 p.m. against Northern Burlington and the Girls will play at home tomorrow, Feb. 4 at 5:00 p.m. against Pennsauken.
Leave a Comment