Girl's Basketball: Using Challenges to their Advantage
The Girl's Basketball team currently has a record of 9-2, making their way through a tough season one game at a time. The girls have had a packed schedule, including three sets of back-to-back games, and numerous tough opponents.The Pirates face a stacked lineup of teams, including Delran who has a 10-3 record, and Rancocas Valley with a 6-7 record, but they are ready to challenge themselves, taking every opportunity to get ready for the playoffs.
After missing the playoffs last year due to COVID-19, Mr. Bret Jenkins, the head coach, is excited to see the team's hard work pay off. The Pirates currently hold the top seed in the BCSL Patriot Division.
"We are actually playing for things, you can play for a division title and we are gonna have playoffs at the end of this season whereas last year we were really just playing games to kinda play," Jenkins said. "There were no playoffs, there were no division titles or anything."
Winning a title and doing well in the playoffs are some of the many goals that Coach Jenkins has for the team. Specifically, Jenkins said he would like to win the Patriot Division title and get a good seed for the playoffs. A good seed would give the Pirates home playoff games, which always help the team move forward.
The Pirates are excited to see how far they can make it in the playoffs.
"We want to win the division and then get really far into playoffs and maybe win because we have a really good chance," Brooke Sztenderowicz said. "That's what I'm most excited for."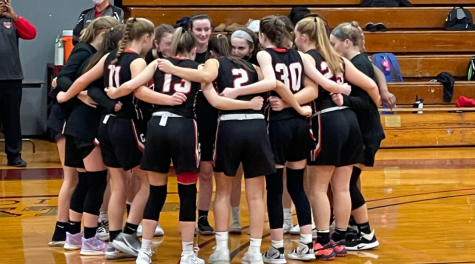 Sztenderowicz, the team leader in points, has a season total of 162, including 29 two-point shots and 24 three-pointers. Following close behind is junior Rhochelle Johnson with 104 points; Johnson also leads the team in free throws, with 28.
The team this year is young but consists of some standout returning players. Junior Olivia Elliott, a varsity player, looks forward to overcoming challenges and playing in upcoming games.
"As a player, I hope to be able to improve my confidence on the court," Elliott said. "For the team, I hope we can stay healthy from injuries and COVID since we already have such a small team."
The team has faced several challenges this year, with multiple players out over winter break and missing some games. Despite the setbacks, they have put in extra work when coming back from COVID, ready to tackle whatever comes their way.
"When the girls have come back from being out, I think they put in some extra work to make sure they are prepared and so far it has really been helping us out," Jenkins said.
Through their challenges, the team is growing and preparing for the playoff season, which will begin soon.
"We have a very tough schedule which we did this year to make sure we challenge ourselves come playoff time, so I think it is going to be very challenging but I think we should be competitive in every game and should have a successful year," Coach Jenkins said.
Sztenderowicz echoed the sentiments of Coach Jenkins, believing that the team's atmosphere has contributed to their overall success on the court.
"We play really good together, we always know where we are on the court, always talking on defense," Sztenderowicz said.
Besides adding playoffs and title opportunities this season, Elliott said she thinks that the team's morale has improved this season as well.
"Throughout the years our team has always been strong on the court, but I would say this year we have a different type of bond as a team off the court," she said.
Last year, the girls finished as Patriot Division Champions and third in the entire BCSL with a record of 12-2. The Lady Pirates hope to do just as well this season, eyeing up a back-to-back Patriot Division title again this year.
Though the team is small, knowing the opportunities this season brings and having good practice have helped them reach goals, such as winning the Patriot Division.
"The girls are just really putting in the time, our practices have been great, they seem very intense and I think they understand the possibilities we could have this season," Jenkins said.
Their hard work is starting to pay off: after a tough start to the beginning of the season due to cancellations and COVID-19, the team is looking forward to intense gyms filled with fans watching them play.
They are ready to face off against teams in their BCSL divisions such as Delran, Woodbury, Rancocas Valley, and West Tech. The team also plans to attend the South Jersey Invitational, another opportunity to challenge themselves and prepare for the playoffs.
Support the Pirates at their next home game against Burlington Township at 5:15 on Thursday, the 27th. For more information about the girls basketball team, visit nj.com.
Leave a Comment