Student Spotlight: Senior Ginamarie Hite Directs Fall Play, Ensemble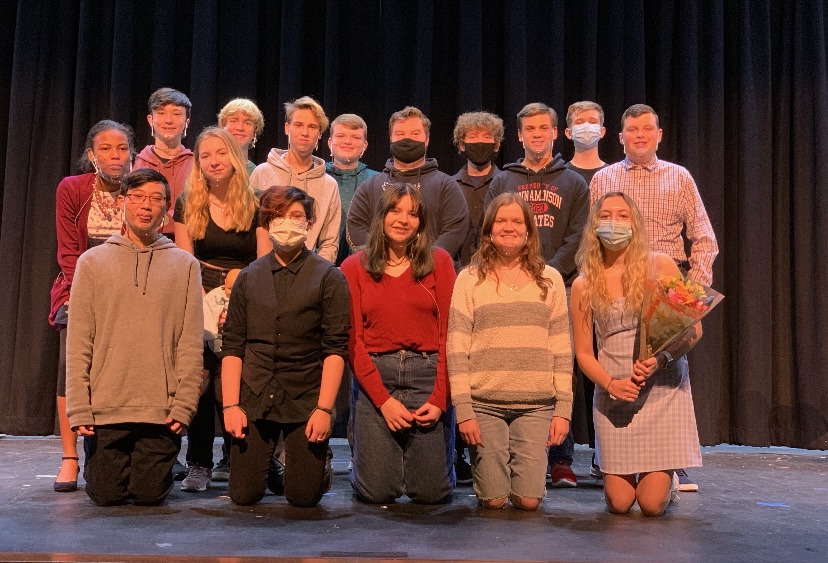 Ensemble, this year's student-directed fall play, was written, developed, and produced by senior Ginamarie Hite. The play debuted Nov. 20 at 12:00 pm and 7:00 pm in the high school's auditorium. Ensemble takes place in a high school and demonstrates the different issues and relationships high school students face as teenagers. The play addresses issues such as eating disorders, family problems, and relationship issues.
"It was about a girl named Paige in high school who thought her life was too good for her to be unhappy and that mindset was worsened when her friends went through terrible ordeals," Hite said about her play.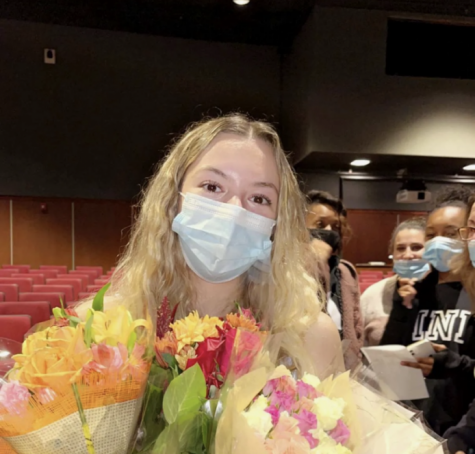 History teacher and director of the high school's drama club, Megan Schweitzer served as Hite's advisor for the play. Besides monitoring the play, she also helped guide Hite through the play-writing process.
"I think that it was very relatable to the experiences of high school students and that Gina very wisely wrote about what she knew, which is often advised in the world of literature and screenwriting, so I commend her for that," Schweitzer said.
Hite developed her ideas for the play's plot through herself and her friends.
"I just would always hear my friends tell me or just see strangers on the Internet always say how they would always be down and depressed but they always felt guilty about it because they thought their life was too good for them not to appreciate the life they have," Hite explained. "It's like you shouldn't feel guilty if you're not happy because it's just not your fault the way you feel."
Hite's passion for playwriting has her considering a future career path in the arts. Hite started to advance her play-writing career with Ensemble this year.
"I just always had it," Hite said in reference to her love of plays. " I have always loved writing and I love TV shows and theater so it was really cool not just to be on the performing side but be the creator side. It was nice seeing all points of view."
With an interest in playwriting and film, Hite decided to apply for this year's fall play because of her passion. Additionally, Hite saw the fall play as an opportunity for material to submit into her film portfolio.
"I'm applying to film school and I really needed something for my portfolio," Hite said. "Overall, it was just a really great experience to get to see what it's like to create and see your words come to life."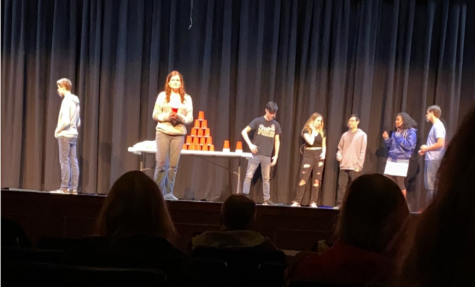 The show had 11 cast members with four crew stage members; a total of fifteen people participated in the play, including Hite. Compared to years past, the cast was larger, and more grade levels participated.
The lead character, Paige, was played by sophomore Zoie Howard.
"It felt great because I've never been a lead before," Howard said. "The teachers and students made it even better because of how supportive and kind they were."
Howard's role as Paige involves her playing a character that feels like she does not belong in this high-pressured society.
"Gina had a larger cast than other student original student plays as far as I can recall, so she was able to get more students involved and more underclassmen than in years past," Schweitzer reflected.
Hite, who directed the play, said she thought it went very well and was happy with the production.
"I think it was great. It was a really awesome experience," Hite said "Everyone impressed me so much, and I think that really showed in the story."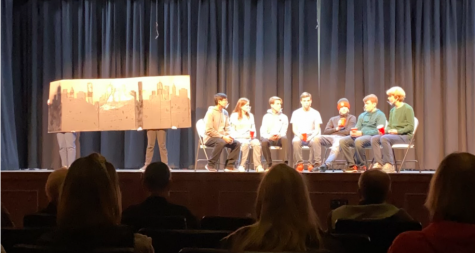 Some of the characters in the play pictured onstage during the production. Photo courtesy of Grace Coller
Howard also was satisfied with the final production. As this was Howard's first participation in a student-directed play, she said she hopes to follow Ginamarie's footsteps and write her own play her senior year.
"It was an overall great experience to meet new people, and I hope to do it again next year," Howard said. "It was probably one of my favorite plays I've ever done. It was really unique because the cast and crew made it really fun."
According to Schweitzer, Hite's high expectations of her cast and choice of subject matter led to the play's overall success.
"I would follow Gina's example and the wise words of many writers to write what you know, that's a really good place to start and to set high expectations for yourself and others, I think that Gina did set high expectations for her cast members," Schweitzer said.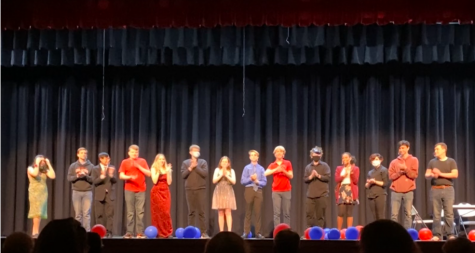 Ensemble was a chance to revive the tradition of student-run fall plays, after not having one last year. Many of the students involved in the play explained they were glad they decided to try out and encouraged other students to consider it next year. Students who are interested in the theater department can also keep an eye out for the school musical, The Addams Family, which will be performed early this spring.
Leave a Comment