Girls' Tennis: Laying the Foundation for Future Success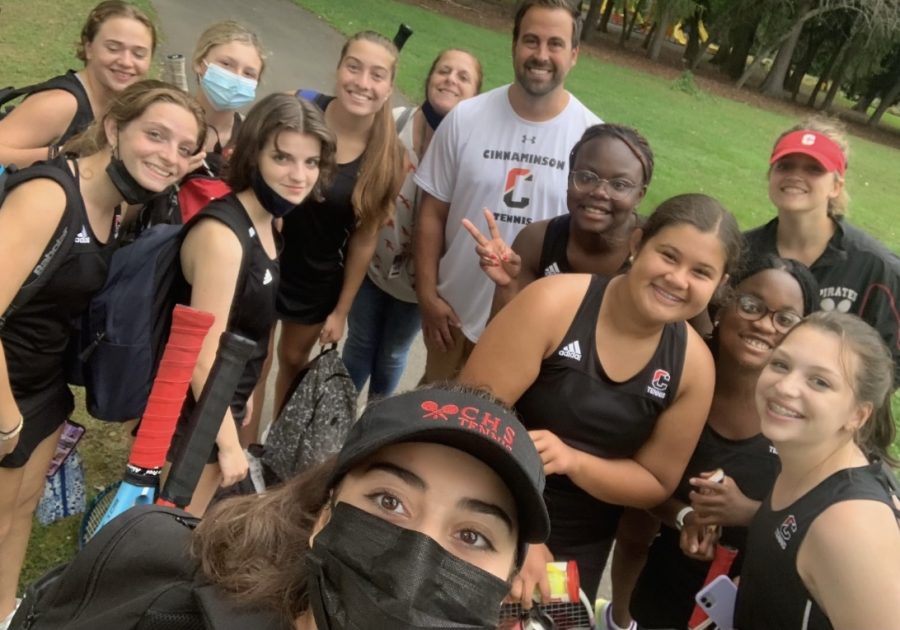 With six of the tennis team's seven starting athletes graduating last year, Cinnaminson High School Girls Tennis is working to acclimate newer athletes into their team roles. Over the course of the last couple of years, the tennis team has graduated over 20 players; the program which once had around 30 girls has since dropped to 13. The tennis team started their season versus more established teams such as Moorestown, RV, and Northern Burlington. 
"It's a rebuilding season," Head Coach Matt Perekupka explained. "We have a lot of new people in new roles, so it's been a pretty steep learning curve but we're getting there. We're making progress."
The one returning varsity athlete Emma Schrier transitioned from second doubles to first singles. According to Coach Perekupka, moving from doubles to singles is always a "big jump," especially considering she is the sole returning varsity player. With the adjustments that Girl's Tennis has been facing over the course of the season, the team is currently 2-11, 1-8 in their Burlington County Scholastic League Liberty Division. 
"I honestly enjoy every day," Coach Perekupka said. "When you think about a season when you haven't had a win and you're 0-9 you might think there's bad morale around the team but we haven't had that. It's a great group of young athletes and I really enjoy my time with them. We get our work done, we stay motivated, but we always have a smile on our faces, and I think that's very important." 
Coach Perekupka explained the thing he is most looking forward to this season is getting to watch the athletes grow, both in skills and in confidence. As the athletes become more comfortable with their roles on the team, Coach Perekupka said the experience will be valuable for future seasons. He also attributed the drop in numbers to the many other sports offered in the fall. 
"Tennis is in a very busy fall season… we have cheerleading, cross country, soccer, field hockey, volleyball and we have tennis. When you are competing against that many other sports, you go back to the idea that I'm thankful we have a tennis team," Coach Perekupka said. "Now that we're finally back in the building, in front of students, I'm looking forward to getting the word out about our team more and having our numbers continue to grow."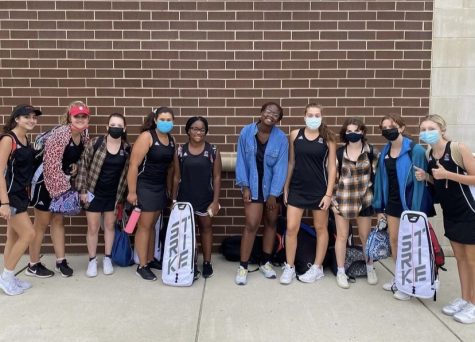 "On the bus going to games we always listen to music and sing along, and just enjoy the vibe of the bus. I think it's really fun to get to sing along with everyone and get to know everyone," captain junior Emma Schrier said. 
Emma highlighted how the atmosphere of the tennis team differs from that of other sports teams; she explained it is not laid back, yet it is comforting in the sense that everyone is there to support each other. 
"We have been playing a lot of really good teams because we are in a higher bracket this year. So, as a team with a lot of newer members, it's hard to not win and still have a good attitude about it," Schrier said. "I think we've done a good job staying focused and staying motivated." 
The other Girls' Tennis captain, senior Laura Sickler, explained her favorite part about being on the tennis team is her teammates and the way they all help each other improve. 
"[Tennis] is a good type of competition between the players, not a bad type. Instead of trying to beat each other, we are all trying to improve and make the team the best that it can be," Sickler said. 
After losing their first nine matches, the tennis team bounced back with a 5-0 win against Burlington Township. Laura highlighted the importance of keeping a positive attitude, even when going against bigger or more established teams. 
"Once I started playing [tennis], I fell in love with the sport. I'm really glad I started playing junior year," Sickler said. 
Both Schrier and Sickler expressed that their coaches, Mrs. Alvarado and Mr. Perekupka, helped them get acclimated to the team and served as tennis role models. 
Currently, the tennis team has a record of 2-11, with a 1-8 record in the BCSL Liberty Division. For more information about the Girls' Tennis Team, their schedules, updated standings and records can be found on nj.com.
Leave a Comment