Harrell Returns for Strong Winter Track Season
The CHS track team recently finished their 2021 season in which they competed in five polar bear meets. Because of changes to winter track due to COVID-19, scores were not kept at any of the track meets this year. As a result, there were no overall standings at the end of the season. Despite no "wins," according to both coaches and athletes, the track team was able to use this different winter track season to grow as athletes and as team players. 
Senior Corey Harrell, a returning state champ, expressed gratitude in having a season in spite of the differences and challenges of training and competing during a pandemic. 
"We're just grateful to have a season at all, so I think many of us will carry that appreciation over to our spring season and try to make the most of it," Harrell said.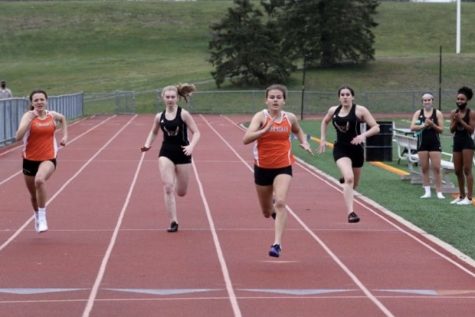 Already amidst a worldwide pandemic, an unusually harsh winter caused it to snow heavily and frequently in the Cinnaminson area. With all of that considered, unlike the guidelines for other winter sports, track practiced only outside, which contributed additional difficulties for the team. 
"Unlike basketball and bowling, we have to practice outside all the time," Kind said, "part of our strength training was just trying to shovel the snow off of the track."
The cold temperatures were especially a problem for runners who need to create a rhythm with their breathing. Coach Kind explained that the lactic acid buildup in the muscles of the runners can cause discomfort and cramping during a race (fermentation). According to Kind, athletes had to work through this, made more difficult by the cold temperatures. Despite these challenges, the coaches worked to develop a team culture of dedication to the sport and individual perseverance. 
Harrell, as a four-year competitor and multi-sport varsity athlete, is no stranger to the traditional difficulties of the sport, including the inclement weather. He says he has a technique of tricking himself into running faster during the spring, which is a testament to his winning ways throughout his years of track. 
"While I'm not sure if science backs it up, I like running in the cold because I can trick myself into thinking that my lungs will be stronger when the springtime starts," Harrell explained.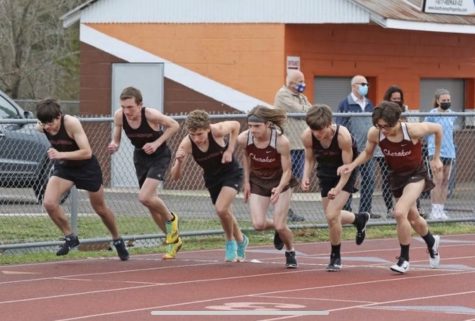 Senior Jacob Solomon felt the effects of Mother Nature as well. Solomon said the snow made the season more difficult and impacted the day to day experience of winter track. 
"We do the best we can to avoid the snow. It can definitely be challenging," Solomon said. "We try to plan what we do at practice accordingly if we know of certain weather conditions. With winter track, always remember to bring a jacket."
However, jackets will no longer be a necessity as the weather warms and many of the winter track team members begin preparing for the upcoming spring track and field season.