CHS Bowling Strikes Through the Competition
 Once a bowler lets go and the ball rolls down the lane, they have no more control. They could try to get the ball to go in one direction with the way they throw it, but ultimately fate has control of the ball now. For the Pirates, fate was rolling in the team's direction, giving the Pirates an almost perfect season. The team won 8 out of their 10 matches, tied in one, and forfeited another.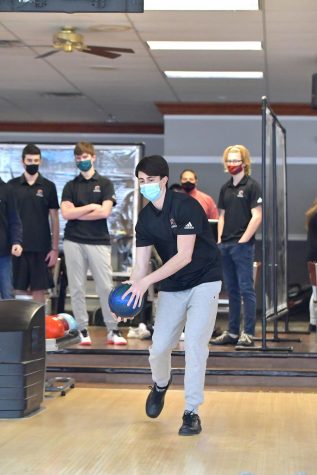 Like other winter sports this year, the bowling team also had some changes to their season. In addition to having to wear face masks and only using their own bowling ball, the team also practiced social distancing between lanes.
Due to the Covid 19 pandemic, Ryland Ross, a junior, explained the changes, which included the use of plastic dividers in between every set of two lanes. Additionally, each team went from sharing in the past a pair of lanes with their competitor to this season when each school had their own set of two lanes.  
"This made the teams separate, and also allowed games to move twice as fast," Ryland said.
These changes may have shifted the way each match was played but the team's spirit was not affected by these changes. All of our sources listed making friends and socializing with teammates as being the best parts of bowling.
Dane Hess, a senior co-captain on the team, also explained that the number of scheduled matches this season had been cut in half, from 20 last year to this year, 10.  
Another difference between this season and past seasons was the number of players. Ryland said this year's team was smaller. It "only had five players, opposed to 30+ last year."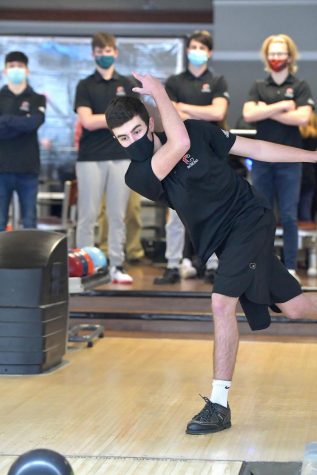 "My favorite thing is being able to spend time and interact with people who maybe I wouldn't see in school," Dane said. "We're split through cohorts, most of the people I bowl with are in different cohorts. You still kinda get that connection."
Dane recalls the best match of the season as the February rematch against Delran after a tie in January. This was the match that would decide division placement. Cinnaminson dominated and came out on top, 3-1.
"That second game against Delran we came out on fire, on top of being a man down, so we were bowling with four people and a blind. And we were still able to sweep Delran, getting a nice final win – we needed that game to win," Dane said. 
Despite the restrictions and new protocols for the season, the Pirates ended the season strong with a 8-1-1 record. The team's sole loss was a result of a forfeit to Pemberton due to a lack of players because of a COVID scare.
"We were undefeated, but due to a COVID scare we only had 2 players attend the last game, so we had to forfeit because we had less than 3 players," Ryland said. "This was upsetting as we did well all year and had to end the season to a loss that was not earned."