CHS Girls' Volleyball Program Continues to Grow and Triumph
The CHS girls' volleyball team, which typically begins practicing in August before the start of school, recently kicked off their season on March 1. Like all of the other winter sports, the team has had to face their share of Covid-related obstacles. 
The major difference between this season and previous ones is the fact that the start time is roughly six months later than usual, changing it from a fall sport to now a winter/spring sport. The team also has to wear masks, complete temperature checks and questionnaires before practice each day, and social distance as much as possible, which makes practices look different this year. 
Head coach Brian Mooney said practice time is limited this year due to the shortened season, and overlapping practices between the freshmen, JV, and varsity teams can no longer take place as they would in a typical season due to the Covid restrictions.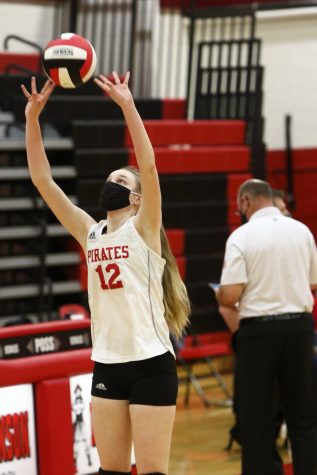 Senior Abigail Derr mentioned that upperclassmen and underclassmen have not had the chance to interact and get to know each other as much as in previous years as a result of these new changes. 
"I think the biggest challenge is communication within the team both on the court and off. Because of Covid we have really struggled to bond as a team," Derr stated. ¨…the team isn't as close as other years.¨
Senior Shelby Sills said that she was grateful just to be able to play this season despite the new changes and regulations. 
¨I don't mind the shortened season or the late start,¨ Sills said. ¨I'm honestly just happy that we have a season at all.¨
In spite of this year's challenges, the CHS girls' volleyball program continues to grow. Coach Brian Mooney said that despite the delayed and shortened season, Covid has not affected the number of students eager to play and the turnout for tryouts did not decrease this year due to the pandemic.
"I just think there's a lot of enthusiasm about girls' volleyball at CHS, and rightly so based on what the girls have done lately," Coach Mooney said. "It's great as coaches to see so many who want to be a part of it."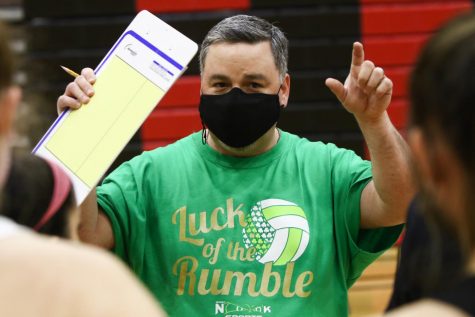 Another difference between this season and past seasons is the fact that many athletes who participate in volleyball are also members of other winter sports teams, causing some overlap between practices and games. 
There are a handful of athletes that are participating in both volleyball as well as winter track or swim simultaneously. Coach Mooney says that open communication between the coaching staffs of the winter sports teams has facilitated the handling of this issue. 
This year the team will only play half of the matches that are usually played in a typical season. Not only will there be fewer matches, but there will also be no competition for division titles, however there are still plans for playoffs to take place after the end of the regular season. 
As in the other winter sports seasons, spectators are limited due to Covid regulations, but home games can still be viewed live via the CHS Athletics YouTube Channel for friends and family who want to watch and support the team but cannot be there in person.
The team started off strong, pulling off their first win of this new and unique season at their first home game on March 17 against Florence. Currently 5-0, the team will compete on the road against Burlington Township for the second time on Thursday, March 25 after defeating them on Tuesday, March 22 at home.