CHS Winter Cheer Team "Making the Most" out of a Nearly Empty Gym
With many traditions interrupted by COVID protocols, the CHS winter cheer team is trying to take on their 2021 season with flexibility and appreciation. Following a handful of athletes on the quarantine list, the cheer team, under the guidance of head coach Ms. Kramer and assistant coach Mrs. Lamb, has bounced back with a "surprising" amount of positivity and team spirit. 
The absence of in-person fans to start the season has affected not only the basketball players but also the cheerleaders as well. Though the cheerleaders always pay attention to the plays of the game, reacting and adjusting their cheer routines accordingly, this year presents a new sense of urgency. 
According to Coach Kramer, "It forces the cheerleaders to be louder, more enthusiastic because they are the only ones there."
The live-stream of the game posted on the CHS Athletics YouTube account, which highlights the cheerleaders during time-outs, between periods, and at halftime, provides the cheerleaders with a wider audience of viewers. Parents of basketball players and cheerleaders alike, who may have previously missed the games, such as for work, are able to watch this year via the video recording. 
"We have more viewers now, virtually, than we've ever had before. There is this urgency to make sure everything looks great, since it's recorded and more people are watching, and it can be replayed. I think there's a bit more awareness of what they are doing…It's a strange silver lining," Coach Lamb said.
With COVID protocols preventing "normal" traditions, such as cheer camp, team dinners, banquets, and senior night festivities, both the coaches and athletes are adapting to new ways to bond as a team. Coach Kramer explained she believes just getting a chance to cheer, to dance, to stunt, and to be part of a team allows the girls to have a sense of normalcy. Despite the differences of this season, the girls still get excited about each performance.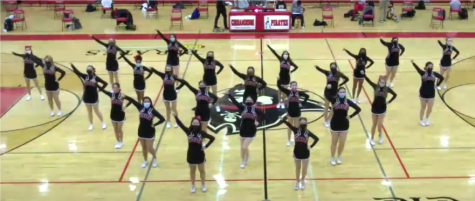 At a loss for words, Coach Kramer tried to describe the season: "With there not being any fans, it just makes the gym feel – I don't even know what word I'm looking for…"
Coach Lamb filled in, "It almost doesn't feel like an actual game – it feels like a practice or something."
"Yeah, it almost feels like: are we even supposed to be here?" Coach Kramer added. "All the hype and energy of the parents is missing, and now the energy is strictly coming from us, and that is a big challenge."
One of the COVID changes that has impacted the cheer team is the fact that they must be separated from each other when sitting in the stands. As explained by senior captain, Lily Nichols, this six-foot divide makes it difficult for her and her co-captain, Whitney Nguyen, to call the cheers and communicate to the rest of the team which cheer will perform next. Lily remarked the distance between girls is "a struggle," but that they are working to keep the gym filled with energy, despite this obstacle. Without many fans in the stands, the cheerleaders noted they feel a heightened responsibility to encourage the players and keep up the energy in the gym. According to both coaches and athletes, even with the differences and challenges presented by this 2021 season, having the opportunity to cheer provided the team with some normalcy. 
"Cheer kept me on the right path, kept me busy, motivated, and involved. If I wasn't cheering, I wouldn't have been doing anything, I can guarantee you that," Lily remarked. "Cheer gave me a reason to go to school every day, to keep up with grades, and to stay involved as much as I could."
With a handful of seniors on the quarantine list for the beginning of the season, the cheer team initially struggled with getting into the team spirit. The coaches explained it was difficult to establish a foundation without their more veteran team members there as leaders. 
"We were kind of stuck in a rut, and we appointed one of our juniors [Whitney] as a new captain, and she has just done wonderful things for the team," Coach Kramer said."She really took leadership seriously, and she is really well-deserving of being promoted to a captain."
Coach Lamb continued, "Lily is amazing as well – the two of them together have really faced every challenge that you can imagine as a captain and they do it seamlessly… it's been smooth sailing with the two of them."
Newly-appointed captain, Whitney, reflected that being a part of the CHS cheer team has changed her in a positive way. She has made memories with her teammates that she will "forever cherish." Whitney was touched that the coaches saw potential in her and was thankful to be given the opportunity to lead the team as a captain. 
"I am so glad that I am able to lead a great group of girls that I absolutely love," Whitney said. "Being captain comes with huge responsibility, however with Lily by my side, she makes the job less overwhelming for me. She is definitely one of my biggest inspirations. My role as captain is to not only push the girls to further their skill level but to guide and support them as well."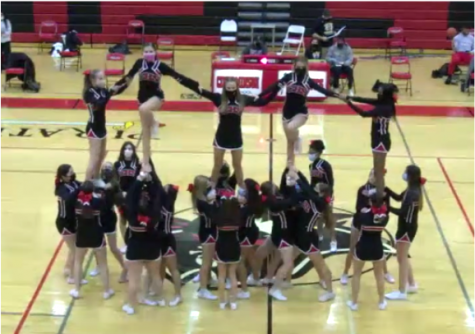 The coaches noted a pleasant surprise in regards to this season is the fact that the girls are facing challenges with a positive approach. Rather than "not being into it" as Kramer explains, the team has come together to make the most out of a season that could have been "taken away from them." Additionally, many girls joined the winter cheer team who would have normally done a different sport or activity that was canceled this year due to COVID protocols. Describing the situation as "lucky," the coaches are happy to get fresh cheering talent from people who might have not done cheer otherwise. 
"Other than the fact we're further apart, we're still close to each other in our hearts," Whitney explained. "My team is the reason why this season is still worth it."
The ability to be flexible and make last-minute adjustments has been a central part of this school year, and specifically, this winter cheer season. Girls may be moved around – from a front spot to a base for example – on a last-minute switch, which requires a level of understanding and patience for both coaches and athletes. Coaches Kramer and Lamb reflected that the shift is necessary COVID protocols has caused a new sense of appreciation for the little things, both on and off the court: things the girls never had to worry about, such as the basics of health and safety, and carpooling are now something that is a daily concern for the team. 
"That's something that I hope can continue with being mindful for other peoples' safety, and the well-being of the team as a whole," Coach Lamb explained. "I'll never complain about anything in the old model now that I've seen what the pandemic can bring. Every day is different…but we come prepared with the assumption that something will switch, and I think the flexibility has been enormous this season. The girls have learned so much about being versatile; it's definitely very organized, but there's also that chaotic factor of never knowing what to expect."
Lily explained that regardless of the differences this cheer season presents, there is a sense of "familiarity" to it. Though the games are different from the past, and the cheering experience is different as well, it allows the girls a reminder of that "familiar" feeling of being in the bleachers with their teammates. 
"The final cheer season at CHS is something that I have been looking forward to, yet dreading in the same breath," said Lily. "I have always looked forward to the senior season with new girls who I get to pass on cheer traditions to, lead, and guide throughout the season. But the thought of leaving CHS behind and not being a cheerleader for my high school anymore is something that I avoid thinking about, as this is all I have known for the past four years. It'll be weird now not saying 'I have cheer practice' every other day, or having Friday nights that are spent anywhere other than the track."
Since the beginning of the season, the rules regarding in-person fans have changed; as per a recent executive order signed by Governor Murphy, up to two fans for each high school athlete will be permitted to attend in person. The maximum occupancy of the gym still must not exceed 35%, or 150 people, whichever applies first. Despite these recent changes, the fan-less start to the season left an impact on the athletes, who had to perform and do their best without people in the stands for support. 
Leave a Comment