CHS Boys' and Girls' Basketball Teams Play Purposefully Despite Covid-related Challenges
 With countless activities and events being cancelled throughout the school year due to the pandemic, students and coaches alike hold on to the winter sports season at CHS.  From the delayed and shortened seasons to having to wear masks, sports in general look a lot different this year. While the fall sports season had rules about masks and social distancing, they were made easier because the sports being played were outdoors. However, as the weather gets colder and sports shift indoors for the winter season, the Covid-related regulations become stricter.
 As high schools across the country struggle to make winter sports seasons happen, here at Cinnaminson High School, both the athletes and coaches are appreciative just to be able to play and coach, despite the new rules and regulations that come with it. After speaking with multiple senior athletes, it seems that they are most grateful to be able to play alongside their friends for the last time.
"Although at times the protocols and regulations are a pain, I play because of the fun the team and the sport brings. I played all four years, and I am not going to quit now just because of a mask," senior Ryan Cardonick commented.
It is no surprise that the winter sports season looks out of the ordinary this year, as many things do. Not only do players have to wear masks and follow other Covid protocols, but spectators are also not permitted at any games, this includes friends and family.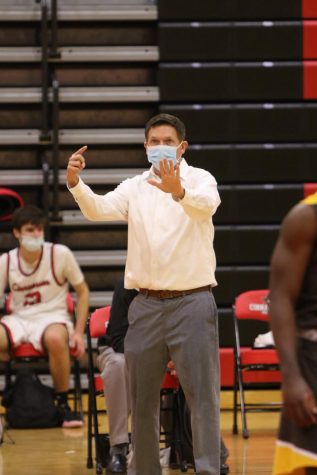 "They know what an amazing opportunity they have to be able to play the sport they love and will continue to put forth their greatest effort possible even without fans in attendance. The players are playing for each other and for their families at home that are watching," boys' basketball head coach Mr. Michael Fries stated.
As those who watch basketball know, the fans at games can make a big impact on players' performances. However, both coaches as well as players believe that the lack of a crowd hasn't had as big of an impact on the way the athletes have been playing as much as you might think. This is especially reflected in the fact that both teams have only lost one game each so far this season, with records of 5-1 (boys) and 8-1 (girls).
"Some players feed off the energy and love and are fueled through interactions with the fans," senior Ryan Cardonick said. "Others can focus more and feel less pressure when it feels like nobody's watching." 
While student athletes participating in tier-one sports at CHS have spent the majority of their season in crowdless gyms, as of Friday, February 12th, due to a decline in Covid-related hospitalizations, Governor Phil Murphy announced that parents and guardians will be permitted to attend school sporting events, as long as capacity remains under 35%.The governor has left the decision of when and if to allow spectators back in the stands up to individual schools, so information on whether or not fans will be permitted at CHS is limited at the moment. Although this new rule states that only two parents or guardians per athlete will be allowed in the stands, it is still a great opportunity for families of these student athletes, especially the seniors, to be able to watch them play, even if it is only at one or two games.
This year, students, both athletes and fans, are excited to get out of the house and be active away from the screens and electronics that come with online school. The athletes continue to play each game as if it's their last because they know with the uncertainty of everything, that their program could be shut down at any moment. 
With all the new regulations on indoor sports, one might assume that more students would opt not to play this season, but after speaking with the coaches of both teams, it seems this is not the case.
"I feel it's like this because the kids are dying to be around their friends and have some normalcy in their life. They all have missed sports so much, and the camaraderie with their friends. It's great to see the kids have the opportunities to get together and spend some time around each other," girls' basketball head coach Mr. Bret Jenkins reflected.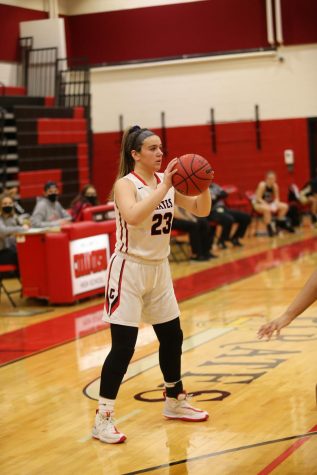 The pandemic has taken a lot away from students from proms and graduations to homecomings and pep rallies and many other highly anticipated events. Sports seem to be the one thing students have this year.
"As a senior, I continued to play basketball this season because it is my last opportunity to play basketball for a Cinnaminson team," senior Isabella Morgan said. "Over the last few years our team, and especially our seniors, have grown a special love for the Cinnaminson girls basketball community and wouldn't want to lose it if we had the chance to pursue a season."
With the unpredictability of the virus, these student athletes have no way of knowing what game will be their last, so they continue to play their hearts out and hope for the best.