In With "Iggy:" CHS' New Athletic Trainer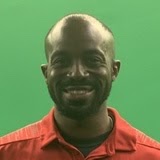 There is a new face at Cinnaminson High School, and his name is Travis "Iggy" Igboin. He will be taking over the position of athletic trainer, which was previously held by "Chip" Cherwony, who worked at the high school for 34 years before retiring in December. Prior to obtaining the title of athletic trainer, Travis spent a semester here at Cinnaminson High School under Chip, learning the ins and outs of CHS and the role of an athletic trainer. 
Originally from Huntsville, Alabama, Travis always played sports growing up, and explained that he played soccer when he was young. After the competition grew and training became more regular, he could no longer play due to all of the commuting. Travis soon decided he wanted to play football after watching a couple of NFL games. 
"Seeing Michael Vick run around the field I said, 'I want to play football and I want to be just like him,"' Travis explained.
  After realizing he wouldn't be taking football to the next level, Travis decided he would attend Thomas Jefferson University in Philadelphia, PA, after he was informed they were starting an athletic training program.
  He knew even while he was growing up, he wanted to help others.
  "I always wanted to care for people, and I loved sports so I knew this was a perfect match,"  Travis said. 
Before coming to CHS, Travis spent semesters working as an assistant athletic trainer at different levels of competitive sports, including at Saint Joseph's Prep, Karen University, and Chestnut Hill College. He described how they were all different in their own way, but said that Cinnaminson High School stood out. 
"I told myself that if the job ever opened up I was going to apply for it," Travis said. "This is a special place."
As CHS' new athletic trainer, he acknowledged that it has been a smooth transition, even with the new Covid-19 protocols in place. 
Travis is looking forward to doing more when it comes to return-to-play protocol. He wants to make sure players are returning to the field 100% ready.
"I want to incorporate more of the rehab section. For example, your ankle is sprained. I'm going to make sure you have ice and when you feel comfortable we are going to put you on some exercises to get you back to 100% instead of 80%," Travis said.
Although he learned a lot from Chip and the way he did things here at CHS,
Travis is excited to make his own mark on CHS.
"I don't want to be Chip 2.0, I'm going to be Travis 1.0."