Athletic Trainer Mark Cherwony, "Chip," retires after nearly 34 years at Cinnaminson High School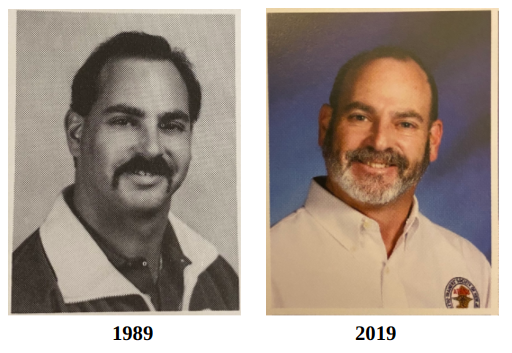 After nearly 34 years of dedication to the athletics program at Cinnaminson High School, Mr. Mark Cherwony, better known as "Chip" to CHS students and staff, is retiring. Chip has put in countless hours to ensure the safety and well-being of Cinnaminson athletes and has made many contributions not only to the athletics department but to the school as a whole. Chip has been a backbone at CHS and has witnessed the highs and lows of the high school's sports seasons since he started working as the athletic trainer in 1987.
Students and staff at CHS can attest to Chip's influence on the school. While some may only have known Chip for a few years, others have known him from being one of his athletes in addition to being one of his colleagues. Mr. Casey knew Chip both as a student and as an athlete, and now as a teacher and coach. 
"The main thing Chip does, though it seems small, is that he is always there.  Not just for his duty as an athletic trainer but for the students also.  All the little things he does for all the sports I coach add up to make a great impact on CHS," Mr. Casey said. "Chip has been an institution at CHS and is one of the faces that has remained…Everyone knows him."
Whether they have known Chip for just a few years or since they were freshmen themselves at CHS, the coaches are grateful for everything Chip has done for their teams and recognize the impact he's had on both the school and community.
"I can't thank Chip enough for what he did for me as a first-year coach.  He was tremendous with my wrestlers, always helped with whatever was needed in terms of equipment or injuries, and couldn't have made it easier for me.  I'll always remember how dedicated he was to our team in particular and how much he wanted us to succeed," Mr. Murray stated.
Since he started working at the high school, Chip has been there for both the athletes and coaches at CHS. Student-athletes recognize his hard work and dedication to his job and appreciate everything he does, whether it be wrapping an ankle before practice or just being there to support the team. 
"He has been in almost every home game I've played and was always there the second he was needed. He's created bonds between all the athletes and is loved by everyone. He [has] healed and helped players throughout the years to an amazing extent," senior volleyball player Kaitlyn Mulligan said. 
Originally, Chip was never planning on staying at Cinnaminson High School for the entirety of his athletic training career. It was a job that opened up for Chip after he finished college, and he seized the opportunity. Chip said he believed that he would be here for no more than five years. Yet, just about 34 years later, the impacts that Chip has made at CHS are immeasurable. 
"Chip played a vital role in helping me get all of the systems in place for the development of our youth lacrosse program. Chip was my single largest ally – from setting up the program to ordering the equipment, Chip was instrumental," Mr. Angelini said. 
In addition to being the longest-working member of the faculty at the high school, Chip is also the longest-working tenured employee in the entire Cinnaminson School district. Over the years, much has changed, yet Chip has always been a key member of the athletics department. 
"Chip can be described as a 'Swiss Army Knife.' He had an answer for almost every question that I have asked in my three years as the A.D.," Mr. Meile said. "As the athletic director,  I would always ask Chip his opinion or ask the questions: 'Why do we do it like that?' 'What do you think about this?' and 'Do you think we can improve upon this?' He would give me good advice, and most importantly, his opinion which I valued greatly. Luckily I still have his cell phone number, so I'll be sure to call him when needed."
Whether it's his school spirit at a sports game, his trademark concussion talk, or his medical help when it's needed most, there is no doubt Chip will be missed as he transitions into his retirement. Any student who went to CHS within the past 33 years who was even remotely involved in the athletics programs knows Chip; he is a familiar face and a foundation that ties together not only different groups of students but different generations as well. While retiring is a new chapter for Chip, it is the end of an era here at CHS. 
"I'm very fortunate…finding something I like to do, that it seems like people thought I did a good job at, and getting to do it at Cinnaminson. Where, again, thinking I was going to be here a short time, and it ended up being my whole career here. It's been very special," Chip said. 
On Tuesday, November 24, 2020, Chip was interviewed about his experience at Cinnaminson High School as well as what his future in retirement looks like. In order to best honor Chip and his legacy here as a trainer, coworker,  mentor, and friend, some questions and his responses are included below. The entire interview is available here.
What do you love the most about working at CHS as an athletic trainer? Why?
I guess when teams did well. Watching the athletes, the coaches, the parents celebrate, I think they came together. Teams are a mini-family to begin with, but at the championship level – I think the girls' soccer won three state champs in a row – and they would get to ride on the fire engine around town, one of the parents would have everybody over. I saw that also with baseball, when they won their championship, the parents had all of the players and family over for a big picnic. The same thing with some of the other soccer championships. It was just gratifying to know that I got to play a very small part in that. As an athletic trainer, a thing that gives me a lot of satisfaction is when you work with a player who is injured. When you work with them, you do the rehab, and they get back and are able to have success. You see the joy on their face and their parents'. To know that you had a little hand in that – that's really what athletic training is to me. Helping these young athletes get healthy to play again. 
What do you think you will miss the most about working at CHS as the trainer?
I spent more than half of my adult life here. I'm going to miss the people that work here: the coaches, the athletes, the administrators that were directly in charge of me. I hear retiring athletes say they're not going to miss the grind, they're not going to miss the air flights; they're going to miss the people. And that's what I'm going to miss: the athletes, the parents. I've had multiple second-generation athletes, you know, the parents graduated, got married, came back, and got a house here. There was one family where I have had a third generation. I've had – I can't even count – for how many I've had generations of athletes. You don't know how many athletes come up to me and say, 'my mom said, my dad, said, you did this' or all of a sudden they're floored to know that I'm talking to their parents on the sideline, like 'how do you know my parents?' Well, they were athletes here. So, I always thought that was kind of neat. It is a family, and Cinnaminson really embraced me and welcomed me into the Cinnaminson family over the years.
What are the biggest lessons you have learned working here at CHS for the past 34 years?
What I learned about myself was largely the way that I interacted with people. It's a kind of art. You like to meet people informally, so then if you have to call them to tell them that there's an injury, they are already somewhat at ease with you because they know you. It's always a little more difficult to call or talk to a parent you don't really know, especially if it's the oldest child, and they had a great experience in in-town or club leagues, and then they come to the high school and get hurt. I also learned resilience. You deal with some pretty nasty injuries, and it does affect you. There got to be a point in time where the athletes were the same age as my children. So, I'm looking at some of these athletes and thinking, 'Oh, you're my child's age. It could be my child having this injury.' I remember the first time that I had to recertify in CPR, at the time that my oldest was just born. Now, you're dealing with this infant [dummy] that's the same size as my child like I'm doing CPR on a child. So, it's just getting a system down and being yourself, but being professional.
View Comments (5)