Class of 2019 Revels in Another Great Experience During their Senior Trip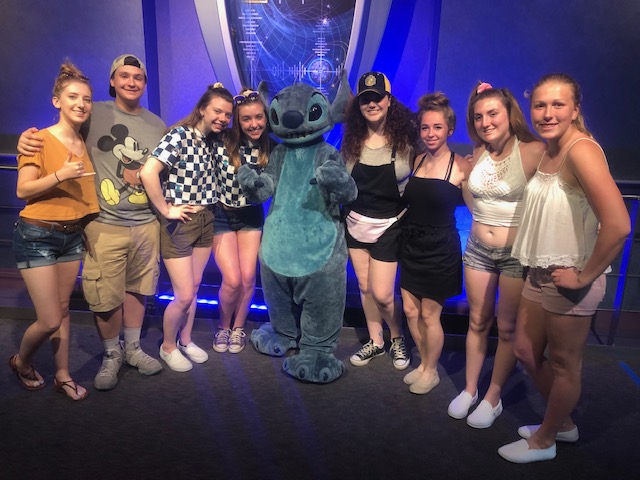 Mikaela Fry, Staff Writer
May 8, 2019
Senior year can be one of the most exciting times for any high school kid. At Cinnaminson High School, the administration makes senior year as enjoyable as possible,  especially with the option of going to Disney World as our senior class trip. This year the seniors got to go to Disney World, Universal, and have a class dinner. All these options provided unforgettable experiences for the whole class of 2019.
     The flight for Orlando required us to arrive leave CHS at 3 a.m., which had most of the senior class waiting at 2 a.m. in the high school cafeteria. Many of the seniors were tired and slept for the flight to Orlando, FL.
      Once we got to Disney we put our check through bags in a truck and brought our carry-on bags wherever we decided to go first. My friend group went to Blizzard Beach water park but many others went to the Disney parks.
    Everyone had to be back at the hotel later that afternoon to put their bags into their assigned rooms. There are four people to each room with two beds.  Then, everyone had to be out of the hotel by 5:30 p.m. and either by the hotel pool or somewhere else in Disney. The curfew to be back at the hotel at night was 11 p.m. Most of the parks close at 10 p.m. but Disney Springs is open all night.
     For our second day we made our way to Universal, which holds fantastic parks. Universal Orlando consists of two theme parks, Universal Studios Florida and Universal's Islands of Adventure, but are highlighted by Harry Potter World, Marvel Super Hero Island,  and the Jurassic Park River Adventure. There was a lot to do in Universal and many rides to go on. The class got back from Universal at around 8 PM and had the option of a pizza party or Disney Springs.
      The third day we were woken up at 7:30 AM and off to the parks at 8:00 AM. This allowed everyone to be the early crowd at the parks and skip long lines. My friends and I went to Hollywood Studios and Epcot that day. We got to skip the wait of the long lines of Rock and Roll Roller Coaster and Tower of Terror since we arrived to the park at 8:30 AM.
       On our fourth day there, our class had the class dinner at the Fantasmic Show at Hollywood Studios. We were able to go to a Disney Park in the morning then go back to the hotel to get ready for the dinner. Everyone looked extremely nice for the dinner and we all sat as a class. We had a buffet style dinner and great seats for the show.
      The last day of Disney we were able to go to a park in the morning as long as we were back to the hotel at 1:00 PM. My friends and I went to Epcot in the morning and got to go on many fun rides.
     Disney was an amazing experience that everyone should be able to have. The trip opened up doors to talk to kids in your class that you may have never held a conversation with. We were all super upset to leave Disney but glad to be going back home.