Boys' Basketball Team Turns Seesaw Start into Top Seed in South Jersey Group 2 Playoffs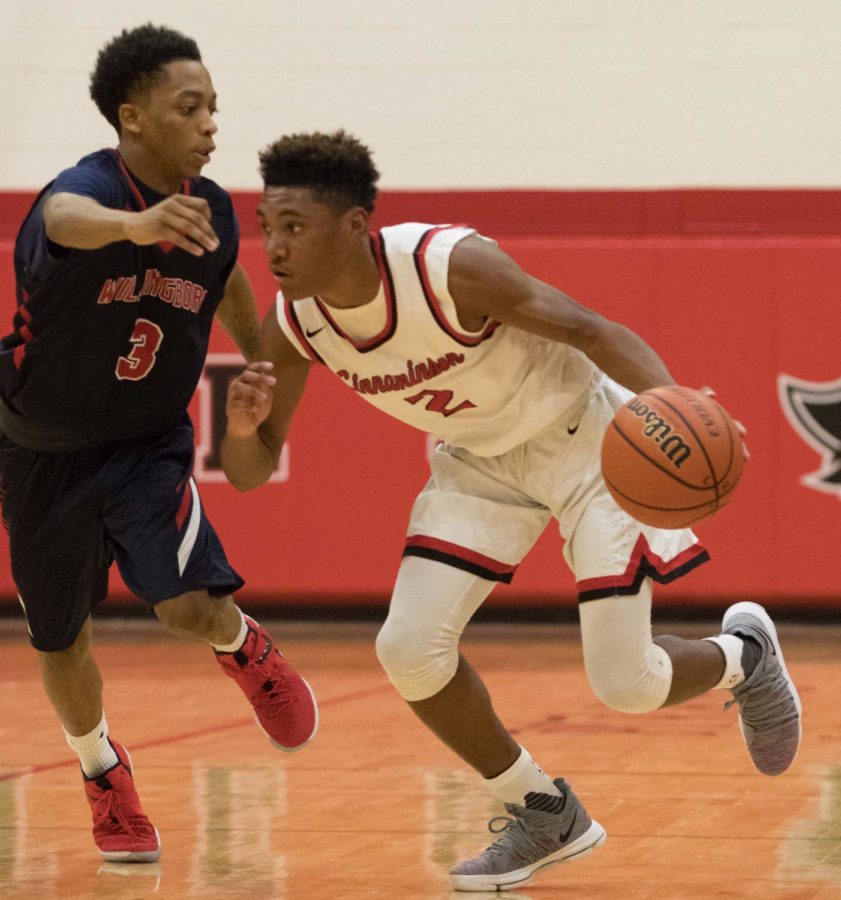 Sara Mayerberg, Staff Writer
March 14, 2018
After returning a team that lost only one significant senior from last year's team, the Cinnaminson Boys' Basketball team looked to have all the pieces in place for a big season. After all, the youth of the team got significant playing time last year and steadied themselves for a run after a difficult 2016-2017 that saw the team go 9-18.
Senior swingman Craig Turner had high expectations coming into this season.
"I expect to have a very good year, a lot better than last year's, hopefully an 18+ wins season and to shock many people," Turner said.
Turner also talked about the team's biggest competition.
"Our biggest competition team-wise this year would probably be Bordentown because of how many times they've won the division in the last five years."
This season, the boys started off the season in rough fashion when the lost to both Bordentown, 62-61, and Burlington City, 55-44, in their first two games. Granted, both of these teams were among the tops in South Jersey for small teams, but in comparison to last year, the team had come very far because in two games to Bordentown last year, the boys lost by a combined 71 points.
But fellow team captain, Gunner Peterson, thinks their biggest threat is a little closer to home.
"I think we're our biggest threat. When we play to the best of our ability we can beat any team but we usually end up shooting ourselves in the foot," Peterson said. Peterson believe that the team should focus more on working together as a team, rather than individual players.
Assistant Coach, Charles Casey, got real when asked about the team.
"The team looks really good, last year we only lost a few seniors, so the underclassmen are stepping it up so that we hopefully go for the division this year." But he also admitted that there is always room for improvement," especially with the higher standards set for this season.
The boys took the positivity to heart and pulled out a tough win over a talented Northern Burlington team in their third game and then headed to Florida for the KSA Events Holiday Basketball Tournament in Orlando, Florida where it would take on teams from Oklahoma and Florida. The boys went 3-0 in their games there and claimed their division victory. The team would come back to win another game and run their record to 5-2 before losing a tight game, 67-61, to Willingboro on January 9.
The end of January came and CHS had run its record to 12-5 and a strong playoff seed seemed realistic in the loaded South Jersey Group 2 bracket that included Haddonfield and four-time consecutive state runner-up, Camden.
The boys would run their record to 18-7 on the regular season, defeating five Group 3 teams and Group 4 Rancocas Valley at home again. Their record and victories allowed the team to claim the top seed in the South Jersey Group 2 bracket, with Haddonfield, Camden and others behind them.
The boys beat Collingswood in their opener, 66-49 but were upset by ninth-seeded Barnegat, 51-47, to end their season at 19-8.