Cinnaminson Outlasts Delran, 38-24, to win BCSL Patriot Division but Rematch Looms Tonight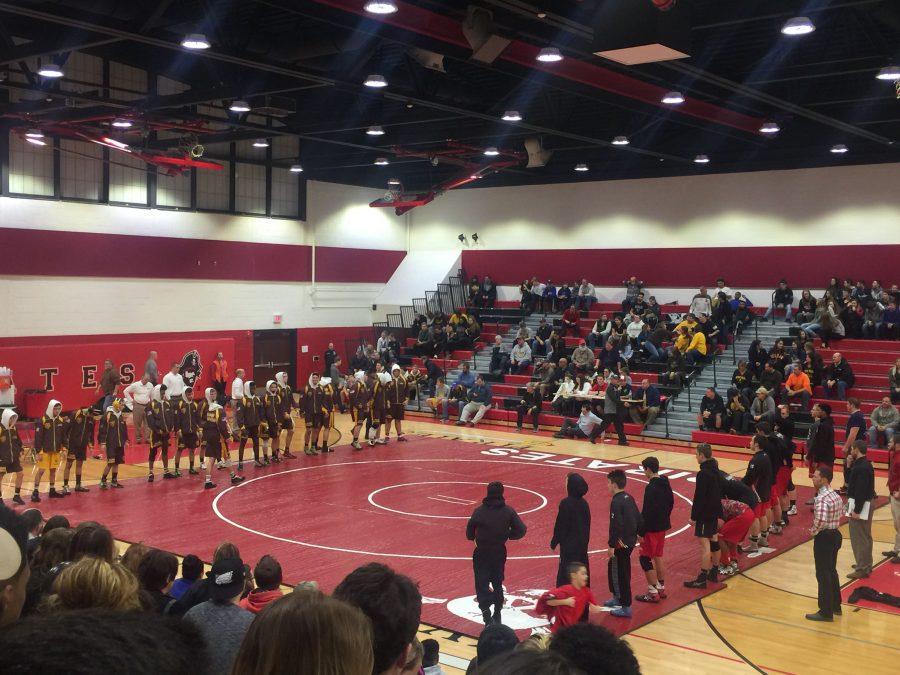 George Rider, Editor
February 6, 2017
Last Wednesday night, the Cinnaminson wrestling team took the mat to face rival Delran for the Patriot Division Championship. In a heated battle that was only secure after Cinnaminson won the last two matches, the Pirates took the win 38-24 from the Bears.
After a weekend quad match that saw Cinnaminson go 2-1 by defeating Shawnee, 52-21, Absegami, 50-9, and losing to the number one seed in South Jersey Group 2, Collingswood, 42-18, the Pirates finished the season 14-6 with a perfect 5-0 division record.
But the rivalry from last Wednesday only heats up because, tonight, the fourth-seeded Cinnaminson will once again host fifth-seeded Delran in a rematch in Round 1 of the Group 2 South Jersey playoffs.  Head Coach Mike McConnell won't be changing much going into the match.
"We didn't really have a mindset except go out there and wrestle," said Head Coach Mike McConnell, "we knew there's always something different when facing Delran. I just told the guys go out and wrestle like you always do and good thing will happen. We have a lot of good guys that'll wrestle for the team and that's great to have. I would like to flip a few of those results on Monday but other then that we're going in Monday with the same mindset."
Freshman 120-pounder Austin Gabay started off the wins for the Pirates in the match with a major decision, 9-0, to give the Pirates a 4-3 lead.
Jahmil Williams picked up the team's next win at 132 in extra time with a takedown to bring the Pirates within two points of Delran, 9-7.
The match was close the whole way through. Match for match it was a nail bitter. One of the few run-away matches was junior 145-pounder Ryan Teague, who didn't have a close match at all as he won on a 15-0 technical fall.
Joey Saxton took the mat for Cinnaminson at 152 taking the win in a 26-9 technical fall and was very confident about what he expected from the team tonight.
"I'm a guy who lives on my feet," Saxton said, "I was told to go out there and get a major and i said hell, I'll go get a tech or a pin and that's what I went out there and did. Coming in here and kicking delran around there's really nothing better then that. We will come out even harder Monday and beat them even worse."
Cinnaminson took a 17-9 lead after Saxton but slid to a 21-17 deficit after a couple tough matches.
Senior 195-lb wrestler Shaun Davilla was put on the mat and picked up a quick first period pin to give the Pirates a 23-21 lead.
"I just did what coach wanted," Davila said, "he bumped me up on purpose to get the six points so that's what I had to do. It was a great team win tonight, we really came through and everybody wrestled hard. We will be going into monday with the same mindset as tonight and every match, go out there wrestle hard and get the win."
However, the Bears clawed back again and won an overtime match and led 24-23 before Keith Swartley took the mat and got the first period pin for the Pirates, his 110th career victory.
"I went out and did what I had to to get the most points I could for the team", Swartley said, "We wrestled really well and we're not changing anything going into Monday."
Freshman Alex Marter clinched the match for Cinnaminson with a 6-1 victory at 106 and freshman Mike Florkowski put the icing on the cake with a first period pin at 113. Cinnaminson won 38-24.
Cinnaminson takes on Delran again for what should be another exciting match Monday at 7 o'clock in the South Group 2 playoffs.  Delran will enter with an 18-9 record after licking their wounds in a 46-25 throttling of Robbinsville.
Tensions ran high among the student bodies of the two schools last time in a tight match and tonight's match should be no different.