Jane B. Weilenbeck Organization Receives More Donations and Helps More in 2016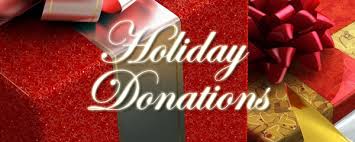 The Jane B. Weilenbeck organization provides necessities including meals and other essentials to families of students that are in need during the holiday season. Jane Weilenbeck, a teacher, guidance counselor, and social worker in the Cinnaminson district until her death in 1988, used to visit families' homes to work with them and help them in any ways she could. This was where she realized that there are a large amount of families in need right in our own backyard.
This year, the organization has seen a solid increase of people helping with the donations. Ms. Fratto, a faculty member highly involved in organizing the Weilenbeck fund at CHS, explained that, "we have received more donations than we have in the past, so we're more funded this year".
The organization helps people during each season of the year, and has been continuing for over 25 years. Their goal is to help any family in need, and in the foreseeable future, supplying them with what they need the most.
"We had a backpack drive in August, where we supply them with backpacks for the year. In Thanksgiving, we provide the ingredients to make a Thanksgiving dinner. In December, we're providing 60 families with gifts and meals for the holidays. In the spring, we provide them a gift card for ShopRite," Fratto explained.
The Jane B. Weilenbeck organization has also improved since last year, with more people adopting families to help them. " We aren't having difficulty finding people to adopt a family, we put it on the Cinnaminson Facebook page, and we had people help," she continued.
The Jane B. Weilenbeck fund gets donations from many different sources as well, helping their cause greatly and efficiently. "We have donations from the Amazon Smile, where they can donate a portion to our organization through that. Other people that have funded our organization are the PRC, AOH, and donations from Cinnaminson school clubs, community members, and staff members from the district. Wells Fargo also gave us a $1000 donations, which is new this year," Fratto explained.
The Jane B. Weilenbeck organization is a very altruistic organization that has helped many families in the past and will continue to help families in the future.