Mr. Jenkins Brings Unique Blend of Academics, Athletics, and Achievement to CHS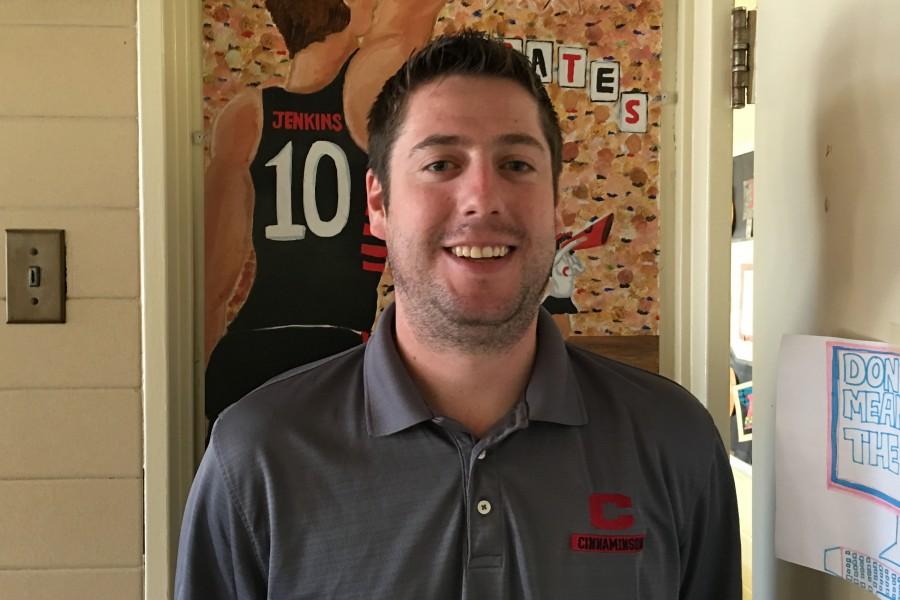 Finn Raymond, Staff Writer
April 19, 2016
When asked who their favorite teacher is at CHS a common answer is Math Teacher/Girl's Basketball/Football/Golf Coach Mr. Jenkins and it is time to find out what makes him so popular among the students of CHS.
Mr. Jenkins teaches numerous classes and levels of math during the day and does a number of other things after school.
But the question persists about why Mr. Jenkins decided to go into teaching Math.  He reasoned with his current employment by recalling how, "When I was in high school, my favorite teacher was a math teacher and I really liked his teaching style." Jenkins is now filling the same role for students that his teacher did for him.
According to junior Rob Berry, Mr. Jenkins is "a good all-around teacher and explains things well," a quality every good teacher must have. In the academic scope, Mr. Jenkins is a reliable figure always willing to give extra help, and bring life to his class.
Rather than write on the board, drone on, and expect students to understand what is so easy to him, Jenkins takes the time to answer any questions students may have and goes over a lesson until each student at least mildly comprehends it.
There is also another side of Mr. Jenkins at CHS, and that is him as a coach. He coaches three sports which are football, girl's basketball, and, most recently, golf. He has a sport to coach in every season which makes Mr. Jenkins a very busy man at CHS. While he may not have a favorite out of these sports there is one that stands out to him.
Mr. Jenkins said, "The one that I knew I'd be coaching my whole life was basketball, I've always wanted to be a basketball coach since I was playing."
Mr. Jenkins is not part of the administrative team at CHS, but in Philadelphia, he was selected as a member of the Eagles Fan Advisory Board after rounds of interviews the team conducted with season ticket holders who applied. Mr. Jenkins, for the most part, has been very modest about his unique achievement with his selection on the board. Mr. Jenkins said that the Fan Advisory Board is a small group of selected individuals, "There's 18 of us and they more or less ask us about the fan experience and what they can do to improve fan and team relations," Jenkins finished.
Becoming a part of the elite Fan Advisory Board took a three step process which included writing an essay and two phases of interviews. The original pool for this board was over at least 300 people, and many applicants were turned down, however Jenkins was not. Mr. Jenkins had the qualities they were looking for and now enters Lincoln Financial Field with his head held a little higher. Sometimes those on the board are given a pampered treatment at the games, at least once a month.
Mr. Jenkins also helps to run the CHS Athletics Twitter feed at CHS, which until Jim Vasallo's "Cinn City Sports" debuted, kept fans of CHS sports in touch with all the athletic events and information relating to sports at CHS.  However, since the expansion of "Cinn City Sports," @CinnAthletics has not tweeted as much because it has not had to.  And, Mr. Jenkins was part of Mr. Merrill's baseball staff for the 2013 state championship baseball team that went on a magical run in May and June of 2013.
Ultimately, Mr. Jenkins has done a great deal of good for our students and athletes at Cinnaminson, whether it be  in the classroom or on the athletic fields and courts and folks are thankful for what he has done for them.