2021 Year in Review: Music, TV, Apps, and Movies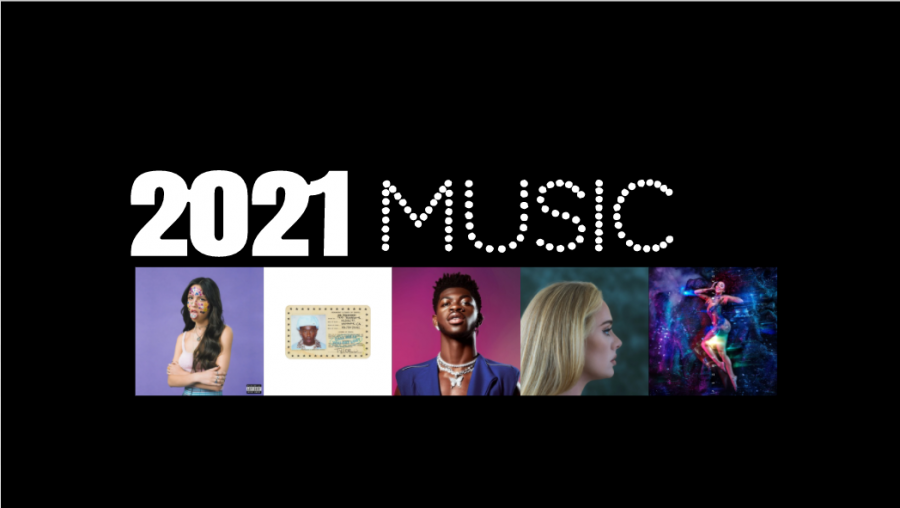 Best of 2021: Music
There were plenty of amazing songs and albums released this past year, but here are the best albums and songs of 2021 according to Billboard staff.
Albums – all images from Billboard.com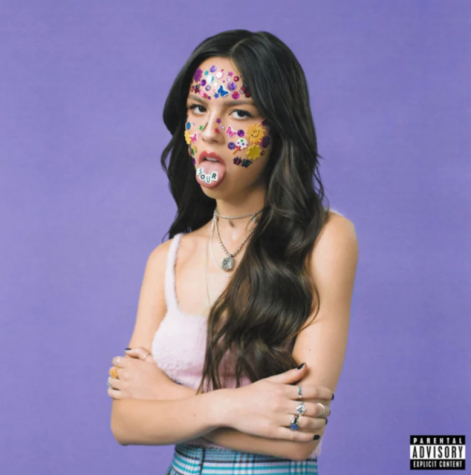 Olivia Rodrigo – "Sour"
"Sour" was released May 21 and skyrocketed. After releasing her song "Driver's License," her fame grew. With 2.69 billion streams on Spotify, her fanbase grew. Her concerts sold out in hours. The album consists of 11 songs with no features on it. The cool thing about her is that she wrote all of her songs. Geffen Records helped her produce and release her music to the public. "Sour" won the People's Choice award for favorite album and also the Danish Music award for International Album of the Year.
Tyler the Creator – "CALL ME IF YOU GET LOST"
"CALL ME IF YOU GET LOST" was released June 25. The 16-song album has 153 million streams on Spotify. It has a bunch of features including Lil Wayne, NBA Youngboy, and more. The album is nominated for a Grammy Award for best rap album. Tyler is known for his all-over-the place music. His music has its own personality when you listen and none of his songs are the same. He channels himself into his music which is why his music continues to top the charts. "CALL ME IF YOU GET LOST" won the BET Hip Hop award for best album of the year.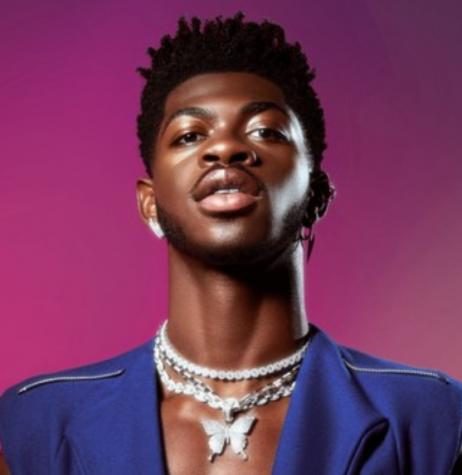 Lil Nas X – "Montero"
"Montero" was released Sept. 17. With 1.3 billion streams on Spotify, the album consists of 15 songs including his most popular song "Montero (call me by your name)" and "Industry Baby" featuring Jack Harlow. Lil Nas X's career skyrocketed after his 2019 hit song "Old Town Road." He portrays himself in his music, including how he is part of the LGTBQ+ community and his hardships as well. He really started climbing to the top of the charts with his songs leading to the album. Lil Nas X won MTV Video Music Award for Video of the Year, MTV Video Music Award for Best Visual Effects, MTV Europe Music Award for Best Video, American Music Award for Favorite Music Video with "Montero (call me by my name)," Danish Music Award for International Hit of the Year, People's Choice Award for Favorite Male Artist, and more.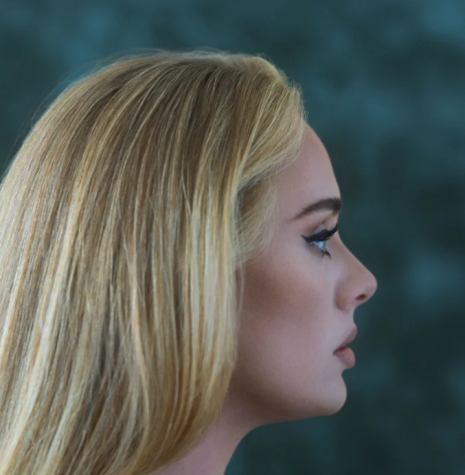 Adele – "30"
"30" dropped Nov. 19 and had 12 songs on the album. Adele's album has over 60.7 million streams on Spotify. Her biggest song on the album, "Easy on Me," gained popularity on the social media platform TikTok. She hasn't released an album since 2015 with the album "25" so it is amazing that she was able to release an album after all this time.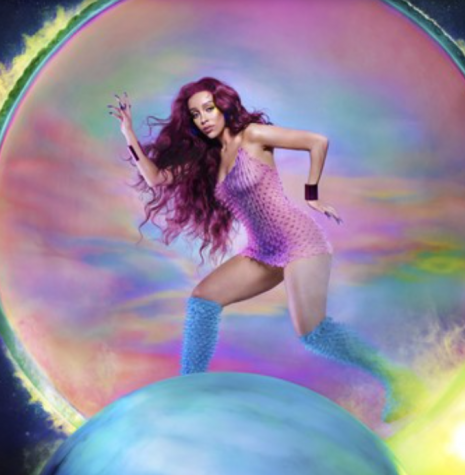 Doja Cat – "Planet Her"
"Planet Her" was released June 25. With one billion streams, she is the first female rapper to reach that goal in a short amount of time. She hit one billion streams only a month after releasing the album which is unheard of. A bunch of her songs are very popular on TikTok, including "Woman," "Kiss Me More," "Need to Know," and "You Right." Doja Cat won Best Female R&B Artist and Best R&B Album for "Planet Her."
Songs – all images from Billboard.com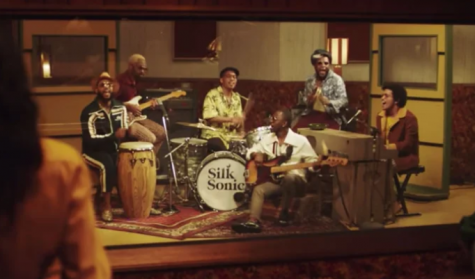 "Leave The Door Open" – Bruno Mars, Anderson.Paak
"Leave The Door Open" came out March 5. With its mix of R&B and 70s blues, the song has 23.5 million streams. The song won MTV Video Music Awards for Best Editing and Best R&B Video. It also won The Ashford & Simpson Songwriter's Award at the Soul Train Music Awards.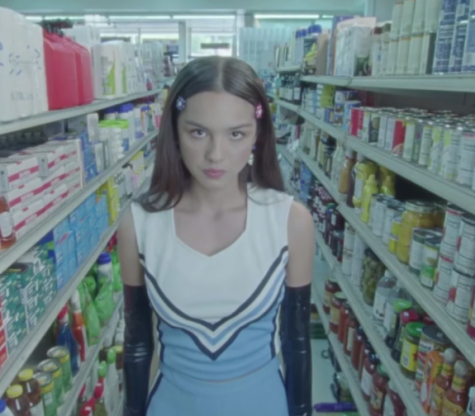 "good 4 u" – Olivia Rodrigo
"good 4 u" debuted May 14. This song is featured on Rodrigo's "Sour" album. It has hints of rock and pop in the song, making it catchy and enjoyable. "good 4 u" has 1.1 billion streams on Spotify and won Best Video and Song of the Year at the People's Choice Awards.
"Levitating" – Dua Lipa and DaBaby
Released March 27, this song instantly became popular, spending 41 weeks at the number two spot on the Billboard Top 10 List. Dua Lipa skipped submitting this song for the Grammys because of the backlash against the other artist, DaBaby.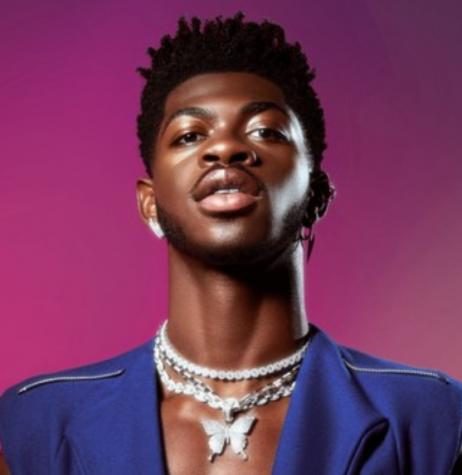 "Industry Baby" – Lil Nas X and Jack Harlow
Released July 23, "Industry Baby" was the hit of the summer. Harlow and Lil Nas X were nominated for Best Collaboration, as well as Song of the Summer. It received 100 million streams and made it on many radio stations. It garnered a nomination for Best Melodic Rap Performance at the 64th Annual Grammy Awards.
"All Too Well" (10-minute version) – Taylor Swift
Released Nov. 12, Taylor Swift fans were eager to see this new short film produced by Swift on the same day her album "Red (Taylor's Version)" was released. Swift shared details about a past relationship that no one knew about in this film, making the song instantly popular.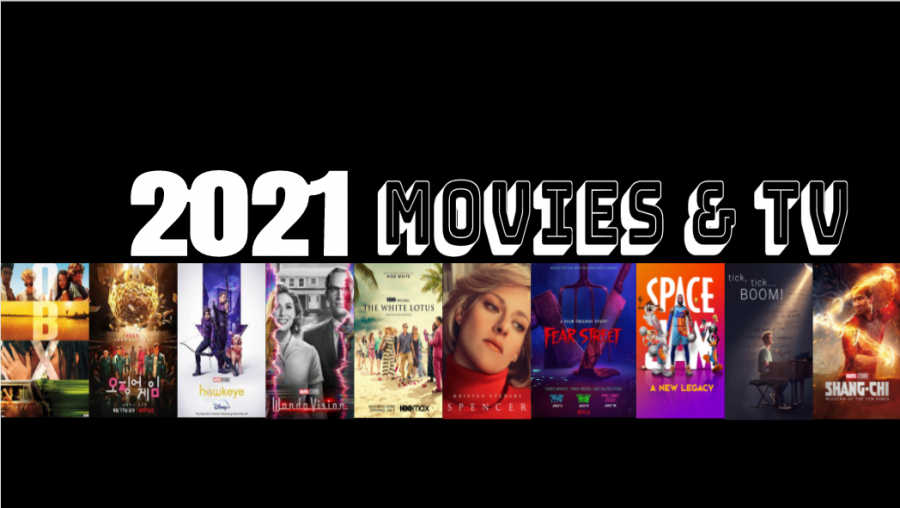 Best of 2021: Shows & Movies
Shows – all images from IMDb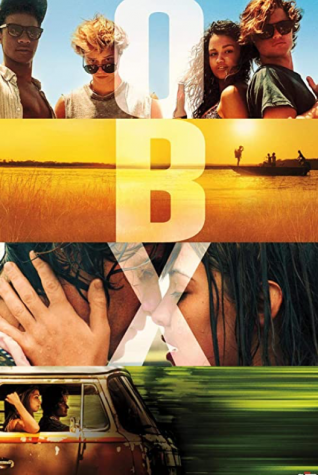 "Outer Banks II" (Drama)
Released July 30
Description: While Kiara, Pope, and JJ mourn the loss of their friends John B and Sarah Cameron, it turns out that they are alive and have escaped to the Barbados. They are on the run from the police, with a big reward over their heads. The group of teens is reunited eventually and try to prove John B's innocence, who has been convicted of a crime he didn't commit.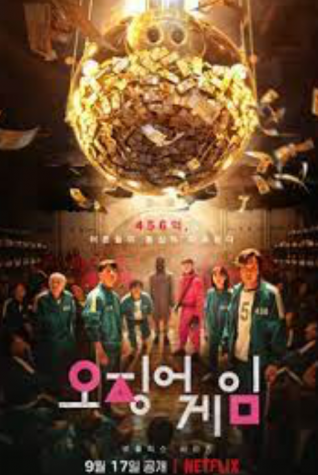 "Squid Game" (Thriller)
Released Sept. 17
Description: Hundreds of cash-strapped contestants who are in debt accept an invitation to compete in children's games for a tempting prize. But at what cost? Who will be the winners of these soon-to-be violent and gory games? Who will take home the prize?
"Hawkeye" (Action)
Released Nov. 24
Description: After "Endgame," Clint Barton is in retirement, trying to spend time with his children and forget the past. Kate Bishop is trying to be just like him after he saved her life in 2012, and the two become a duo and fight crime together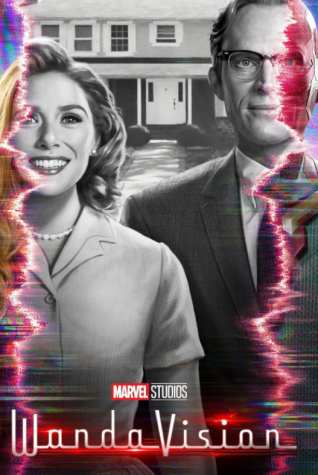 "WandaVision" (Action)
Released Jan. 15
Description: Living normal suburban lives in New Jersey, super-powered beings Wanda and Vision both start to suspect that everything is not as it seems to be.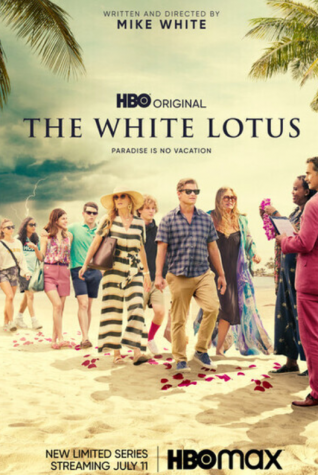 "The White Lotus"(Comedy/Drama)
Released July 11
Description: The show focuses on the misadventures and exploits of eight hotel guests. After they check into a hotel, it shows a week in the life of vacationers as they relax and rejuvenate in paradise. However, with each passing day, the hotel doesn't seem to be that safe after all.
Movies – all images from IMDb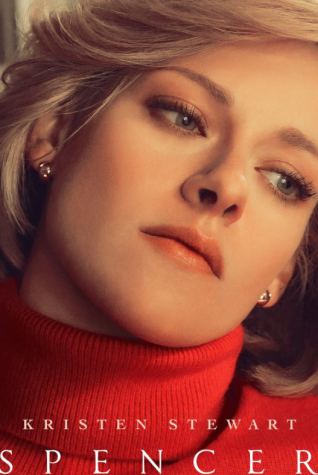 "Spencer" (Drama/Historical Film)
Released Nov. 5
Description: This historical film shows the marriage between Diana Spencer and Prince Charles and the coldness of their relationship. Peace is restored during the holidays (even with the rumors of divorce floating around). There is eating, drinking, and many other activities, but Diana knows that the feeling of the holidays is going to be very different this year.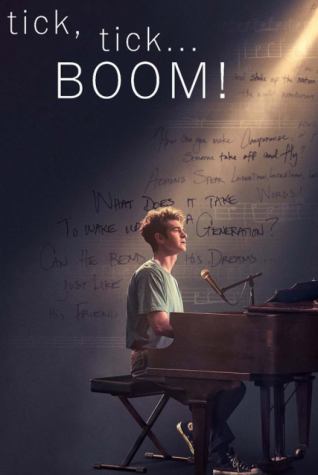 "Tick Tick…Boom!" (Musical/Drama)
Released Nov. 12
Description: Based on the autobiography of the writer of "Rent," Johnathan Larson, it is the story of his life as a composer in New York. He becomes worried that he ended up making the wrong career choice, while he is trying to hold onto his relationships and friendships.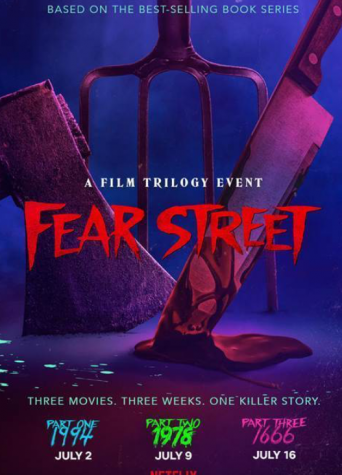 "The Fear Street Trilogy" (Horror)
Released July 2nd (1st) July 9th (2nd) and July 16th (3rd)
Description: These three movies are based on the bestselling series by R.L Stine (the author of "Goosebumps"). They all connect to one sinister story about two towns rivaling each other, but what is the reason why? Each movie reveals secrets darker than the last movie, all leading up to the final and third movie.
"Shang-Chi and The Legend of the 10 Rings" (Action)
Released Sept. 3
Description: Shang Chi, a martial arts teacher, is confronted by his past that he thought he had left behind. His interest in this "Ten Rings Organization" leads him to going on an adventure to find the reason for the rings and what they do.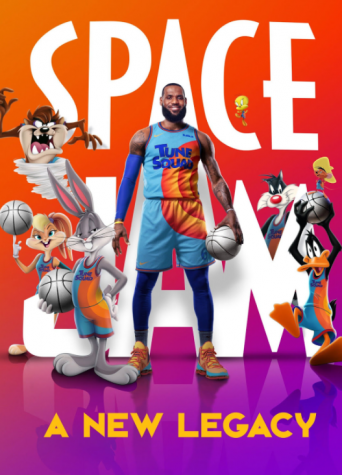 "Space Jam"
Released July 16
Description: Superstar Lebron James and his son Dom end up getting trapped in a Space AI. In order to get home safely, he teams up with Bugs Bunny, Daffy Duck, and many others to team up against the AI's for a highstake basketball game powered by a roster called the Goon Squad.
Best of 2021: Apps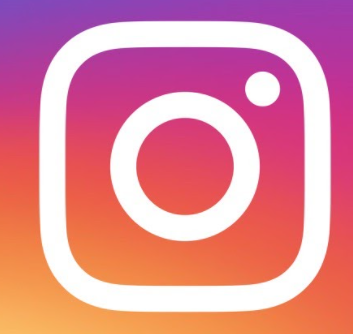 Instagram
Instagram is one of the most popular social media apps in the world. Instagram has been owned by Meta Platforms Inc. (Facebook) since 2012. The app allows users to share photos, videos and has a new marketplace feature that lets users buy and sell goods on the app. Users can search for popular figures using the "explore" feature and look up topics of interest. Instagram allows users to browse photos posted by everyone from mutual friends to celebrities and look at "stories," which is a way to share content for 24 hours at a time. This year it has even added an easier way to edit photos and videos. Follow us on Instagram at @cinnashipslog!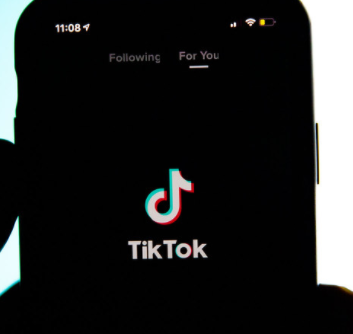 TikTok
Ever since quarantine, TikTok has become the number one app on the App Store. Almost everyone has heard of TikTok, many downloading it to view everything from dancing videos to short comedy skits. As of right now, it has 57 million users, putting it in the top 10 for most registered users. TikTok has inspired many to help their communities. One way is by raising money for plenty of good causes. The app showcases many users' talents and has something fun and interesting for all.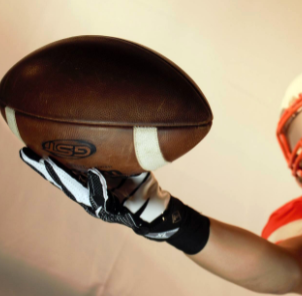 RetroBowl
Retro Bowl is a call back to the 80s, based on the popular game Tecmo Bowl. Retro Bowl is a football game where users can act as the coach of their favorite team, calling plays and creating the best roster. You can choose players, their strengths, and who will be the star of the team. Retro Bowl takes you through the season one game at a time, letting you choose whether to go for a field goal or a two-point conversion. One of the most popular games from the 80s is back for your phone with a new look!
Food Delivery Apps
Food delivery apps have changed how people order their food. The most popular apps are DoorDash, GrubHub and Uber Eats. It's an efficient way to get food delivered without going outside or having to come in contact with someone else. Food delivery apps like DoorDash or GrubHub gained popularity when many were hesitant to go out to eat or come into contact with delivery drivers. These apps have continued to grow and are used by many even when others have returned to indoor dining. These apps bring convenience to many food lovers and add a delivery service to many popular restaurants that have never had a delivery option in the past.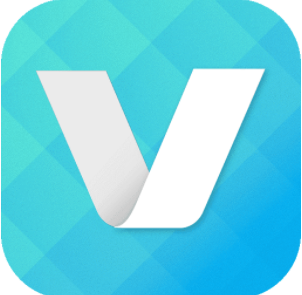 Venmo
Venmo is a safe way to send and receive money online. The app provides a way to pay friends and family if the user owes them money. It can be used for something simple like splitting a lunch bill or something a little more costly like paying rent. Venmo can also be used to purchase from stores and businesses. The app is able to manage bank accounts by giving the user the ability to transfer money from the app to the bank. Venmo creates an easy way to keep track of money and payments online.
Leave a Comment