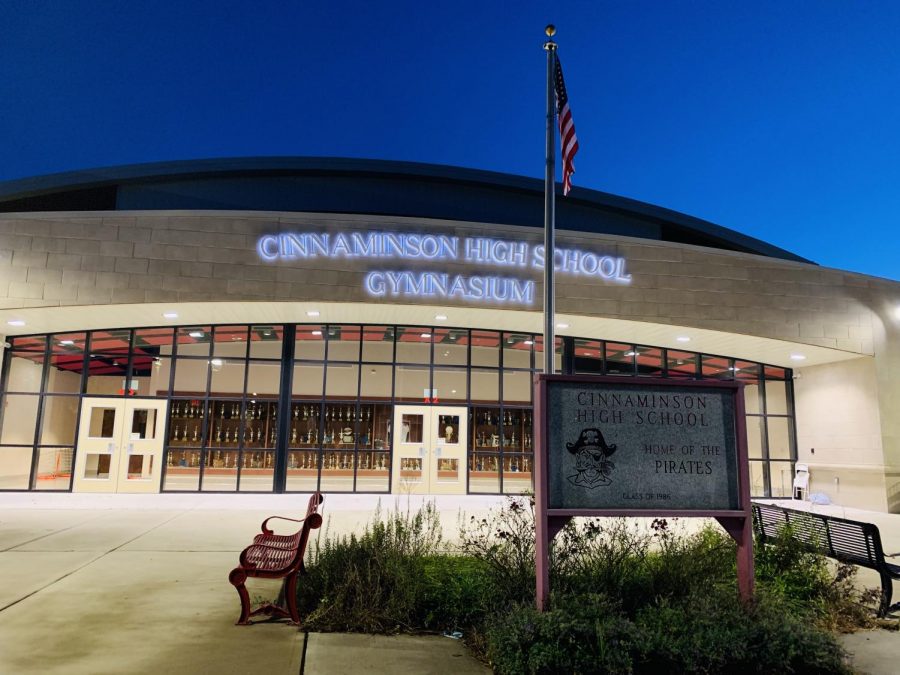 Photo Courtesy of the Ship's Log Staff
Filled with constant uncertainty, the CHS fall sports coaches are adapting to the COVID-19 sports guidelines while at the same time promoting team spirit and school pride. Head coaches and student captains reflected on their sports season so far and how their sport is implementing the NJ state guidelines. More information about these guidelines can be found on the New Jersey Department of Health website. 
Boys' Cross Country
Head coach Fourney has been working with the boys' schedule in order to experiment with increasing their run volume and to see how the increased weekly distance impacts their racing.
"It gives everyone a little sense of normalcy. It allows the athletes to forget what is currently happening in the world right now, be with their friends and teammates and have fun!" remarks Coach Fourney, in reference to having sports despite the COVID-19 restrictions.
Coach Fourney is thankful for the work that administrators put in, which allowed this season to be a reality. He commented that continuing school activities such as athletics is a great way to help student-athletes' mental well-being.
"We get to race three times on our home course, which has not happened in over 25 years, so I am looking forward in tracking the improvements of our runners on our home course," said Coach Fourney. "Usually cross country times are hard to compare because we run on different courses, so it will be nice to be able to compare times this year."
Though it has been difficult at times as a coach to ensure all of the safety procedures are being followed, Coach Fourney explains that the benefits of cross country outweigh the challenges. He hopes other students will support the cross country runners, especially through recognition on social media to congratulate the runners on their hard work and accomplishments.
Girls' Cross Country
With no team championships or league all-star individual runner recognition, head girls' cross country coach, Mr. Callinan, explains that the main focuses for the season are the Burlington County Championships and the Sectional Championships. The team is honoring the one senior, Morgan Wait, on October 24th at a home batch meet.
According to Coach Callinan, "The goal each year is always the same: work hard and try our best. We have some different things to work towards, but just being able to get back out racing is going to be exciting. With limited opportunities, we will try and race hard each time out and take advantage of the hard work the team has been doing."
Following all health recommendations, Coach Callinan said he is looking forward to the season ahead, believing the girls' cross country team is a talented group of runners.
"The biggest challenge this fall as a coach is being patient. Being a spring track coach, it's been seven months since a Cinnaminson athlete last raced, and I can't wait to see us getting back out there," Coach Callinan said.
Now more than ever, Coach Callinan remarked, athletics are helping bring some normalcy back into the school environment; the sports season is an embodiment of all of the hard work and dedication that teachers, administrators and students have all worked together to accomplish.
Girls' Tennis
Mr. Perekupka, the head coach of the girls' tennis team, is looking forward to this season and the opportunities his team has this year with playoffs. Though divisional championships are canceled for the season due to COVID precautions, the goal of the team remains: improve skills, have fun and win matches.
Coach Perekupka explained, "If teams and players follow proper safety protocols, sports are a healthy stress-relieving activity. It helps students physically and mentally deal with the changing world. We are just thankful to have a season. We are going to enjoy every day and get the most out of it we can."
The biggest challenge as a tennis coach so far this season, according to Coach Perekupka, is adjusting drills to make sure everyone is safe. Though it may take a bit more planning, or thinking outside of the box, these extra steps are "important" in order to keep all athletes as safe as possible. The tennis team's senior athletes will be honored on October 26th at their match against Holy Cross.
"COVID has caused significant changes to the school environment. I feel like a lot of students and teachers are having a difficult time connecting and building relationships early this school year," said Coach Perekupka. "I feel like sports are allowing students some sense of 'normalcy.' Players and coaches can interact, laugh and build relationships while still following COVID protocols but in a more connected environment."
Sharing this opinion with many of the other head coaches, Mr. Perekupka expressed the idea that it would be great for students, families and staff to stay involved with the tennis matches if they were able to be recorded or live-streamed.
Field Hockey
Just being able to play and the fact that a season exists is exciting news to head field hockey coach, Mrs. Baysal. With many seniors on the team, it is an opportunity for them to make high school memories and enjoy their final field hockey season at CHS. The seniors were honored at their senior game on October 3rd, in their game against Maple Shade, which they won 4-0.
"It's great that CHS is a small, tight-knit school.  There is a lot of pride in our students, and they show it when they support their friends in all of their endeavors.  Having a sports season allows our small community to show our pride when we face other local teams," said Coach Baysal. "It helps our athletes have a chance to get some physical activity, socialize and create forever memories from high school.  I believe this translates to the classroom environment as well in helping student-athletes focus and manage their time well."
As with all the other sports, Coach Baysal reflected that field hockey has faced some obstacles in their return to play: it's been hard to completely avoid sharing equipment, and it is not always easy to yell across the field wearing a mask. Yet, Mrs. Baysal agrees that all these challenges are worth it for a chance at an athletics season.
Coach Baysal explained, "If you have a friend that plays a sport but you can't go and watch, I think a caring text message/FaceTime/chat goes a long way.  Reach out to wish them luck on a big game day.  After a game, reach out and ask how the game went or just how they played in general."
Coach Baysal wants to recognize Cinnaminson High School for working so hard to keep all records in order to monitor any potential signs of COVID-19. In addition to the school itself, she explains veteran field hockey players are doing a great job leading the team and running the drills all while being at a safe distance.
Cheerleading
Even with a shortened preseason, head cheerleading coach, Ms. Kramer, made sure the girls were game-day ready. With many incoming freshmen this year, the cheer team is looking forward to learning new stunts, new pyramids and having fun while putting in a lot of work.
"Our season goals have not changed much due to the altered sports schedule," explained Coach Kramer. "One major difference this season is cheering at all three levels of football (Freshman, JV and Varsity). In a normal season, we cheer at all home and away varsity games. Since cheerleaders and marching band are not allowed at away games this season, our goal is to support the school by attending a variety of games."
On October 2nd, the cheer team honored their seniors with a senior night, which was celebrated at the varsity football game. The seniors were honored by the underclassmen with posters and personalized gifts.
"I believe that sports positively impact the CHS climate by bringing everyone together. It's always great to see students attending sporting events to support their friends/classmates. With such a different school environment, I believe that continuing to have a fall sports season helps students show their school pride and spirit, which is a well-known characteristic of Cinnaminson students," Coach Kramer said.
Coach Kramer hopes that even though the spectators of the games are limited, CHS students will support their sports teams by wishing them good luck on game-days, following game results and encouraging athletes prior to events.
Football
According to senior captain Andrew Brown, despite the changes to the season, the goal remains the same: win games, work hard and have fun as a team. Each weekly game feels extra important with limited preseason practices and a shortened game season.
"As a football team we are just playing together, having fun and playing our hardest because for some of us seniors this year is the last year that we will ever put on shoulder pads and helmets again," reflected Brown.
With no crowds to cheer the team on, it has been difficult for the players to feel "hype" for the games. However, they are able to work together as a team to get themselves ready and leave the game with no regrets.
"I feel like it was a good choice to do sports this year because for some of the seniors this is the last time that they will suit up for the sport they've been playing all their life," said Brown.
Andrew speaks on behalf of the team when he expressed the idea that he wants to work with his team to win as many of their games possible and to leave the season on a good note; as many of these athletes have been playing football together since they were young, this year is a special opportunity for them.
Marching Band
Ms. Knisely, leader of the championship marching band, is adapting the band to the "new normal." In a typical year, the marching band would have around 70 hours over the summer to practice; this year it was reduced to 12 hours. With such drastic changes to practice, the expectations had to be adjusted.
"I've loved sports all my life and firmly believe that they are an integral part of growing up.  However, in the current climate, we need to be extremely careful in how we proceed," said Ms. Knisely. "As for our fall sports at CHS, the adaptations made by NJSIAA have taken into account the safety of our athletes and continue to do so.  I am pleased that our HS teams have the opportunity to compete, even on a limited basis we have."
Without traditional championships, Ms. Knisely is trying to make this season as special as possible, especially for seniors. She noted that it is important to try and keep spirits up, which is especially difficult without any in-person competitions. Sending in a recording is not the best for morale, Ms. Knisely explained, yet playing at the football games is still a great way to bring the band together.
According to Ms. Knisely, "The main difference now is that we are no longer going against bands from PA and NJ but from 20 different states. So without knowing any of the other groups and their schedules, it is hard for us to adapt goals for placements. [The] bottom line is we stick to our main goal – to be better each time we perform."
Ms. Knisely wants students to understand, no matter how difficult this school year and sports season may seem, the hard times can't last forever. CHS is a strong community and will get through this together!
Boys' Soccer
For student-athletes, particularly seniors, this year's limited season may have come as a disappointment, yet senior and captain of the boys' soccer team, Owen Ogden, explains the team is working hard to adjust their goals and make the best out of the season.
Ogden explained, "One great thing that came from this was the schedule. In my last two years as a varsity starter, we have been in the second division of the BCSL. The level of play was not very high… When the state told the schools they had to play teams within a certain radius, our schedule was changed significantly. We went from playing teams like Palmyra and Pemberton twice to having Delran, Moorestown and Burlington Township twice. These three teams are all in the first division of the BCSL and better competition than the last two years. One thing I know the team was looking forward to was the two games with the cross-town rival Delran, but sadly both games have been canceled due to COVID scares on both sides. The Delran team has been quarantined since October 10th and will be quarantined until October 26th. We were supposed to play them on the 23rd."
Owen explained that the feeling that comes with playing a sport that he, and many others, have loved since they were younger, and getting to do so with friends they have had since kindergarten is a feeling that can never be replaced. While it's hard for seniors to not get a chance to represent Cinnaminson High School in a traditional way, Owen reflected that the different school environment only makes athletes appreciate more the fact that they are able to participate in sports.
"The main goal for us is to stay healthy. With the virus affecting so many other teams, the most important thing is to make sure our team doesn't face the same fate," said Owen. "As far as soccer-related goals, the trophy we're shooting for is the South Jersey West final since that is the furthest a team is able to go in this shortened season. The state split the regions into even smaller sections this year and our school has been put into SJ West."
With staying safe a top priority, Ogden referenced the daily COVID form as a way to monitor any potential symptoms or exposures. He explained as long as everyone follows the rules, sports is a great way for students, especially seniors, to get a chance to participate in the school community and show their Pirate Pride for their last soccer season at CHS.
Girls' Soccer
Focusing on the sectional playoffs, head girls' soccer coach Mr. Bond is hoping the team will be able to secure a home sectional game with the ultimate goal of winning the sectional championship.
With school spirit at an "all-time low," Coach Bond said, "without some of the traditional events, it really changes everyone's demeanor. I think that sports are even more [important] now as this is the only real release for the students to feel somewhat normal again. It is something for our students to look forward to every day and really put their energy into."
Coach Bond discussed the balance between physical and mental health, suggesting that participating in sports helps both. Not only are sports a great way to stay physically active, but they are also something positive to look forward to each day.
"I think just being together and making memories. When COVID hit in the spring and many athletes saw their final seasons ripped from them, I think it really shocked a lot of people. In a world full of instant gratification and distractions, I think that COVID forced us all to stop and think about what is really important in life," said Coach Bond.
Reminiscing about his years in high school, Coach Bond explained that despite the current guidelines, high school sports are some of the greatest memories that athletes are able to make. The team spirit, fun times and friendships are hard to recreate, and he wants students to take advantage of each and every opportunity.