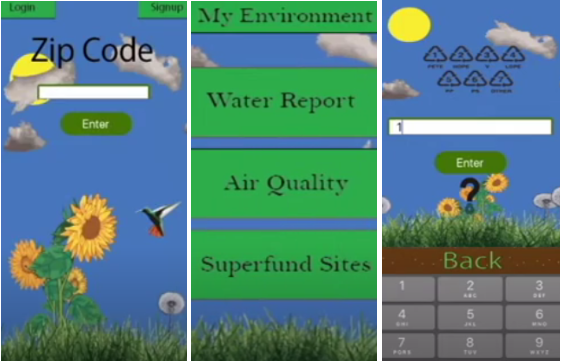 With an innovative new app called EnviroScan, CHS senior Kevin Bockius won the 2020 High School Invention Convention. The app is a culmination of multiple different tools to help people better understand their surrounding environment, and what they can do to help keep it in good shape. EnviroScan has features such as an air quality report, an assessment of local water, and even a guide to recycling different plastics. 
Information from the EPA suggests around 75% of American waste can be recycled, but only about 30% is actually recycled: "The problem with recycling, is that many people don't actually know how to properly recycle," says Bockius "and EnviroScan fixes this by giving users the knowledge they need to efficiently recycle."
Bockius was inspired to develop EnviroScan after taking Environmental Science last year, and being unpleasantly surprised by the convoluted information that is currently available for people about the environment. In particular, the yearly water reports that the government provides for people about their water quality were difficult to understand, and featured complicated information. Reflecting upon the experience, Bockius claims "if you see vinyl chloride on your water report, chances are you wouldn't know it's carcinogenic." Extremely confusing  to navigate, the reports were not an effective method of communication, and to the average citizen, did nothing to better inform themselves of their situation. 
 "I was shocked to learn that my very own town's water had been contaminated by a nearby landfill," Bockius explained.  "They left me wondering: how did I miss this? Many of my peers also were not aware that our water was contaminated… " 
The purpose of the app is to create a way for people to get clear information about what they can do to help their local environment, ensuring safety for themselves, and their world. Bockius's EnviroScan does just that, promoting proper recycling habits, and informing users about the quality of their surrounding environment. 
After weeks of brainstorming and development, Kevin submitted his idea to the Invention Convention, where judges rewarded his hard work. The app's simple interface is made from complicated coding that "took many hours to get everything working." The Invention Convention only opened up to high school age students last year, with the new co-chair of the program, Ms.Coker expanding it into a district wide experience. Cinnaminson offers young inventors this opportunity to showcase their skill, and reward talented students with recognition for their inspiring work. 
"Overall, EnviroScan is a great application for anyone looking to expand their environmental knowledge," says Bockius.