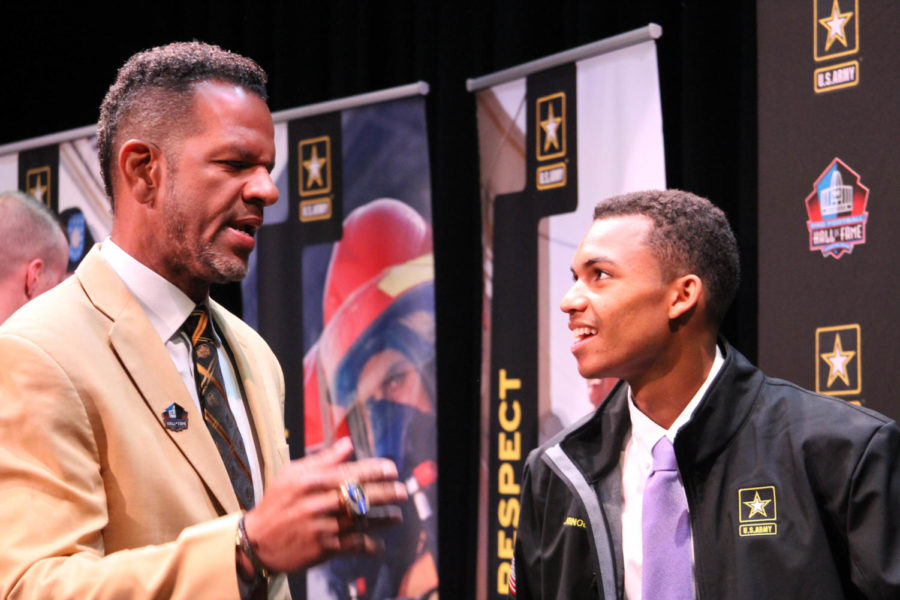 courtesy of Carlo Iacono
Justin Arnold is an outstanding senior student-athlete and was notified in early 2018 that he was selected to receive a prestigious award from the U.S. Army – Pro Football Hall of Fame Award for Excellence after being nominated by Cinnaminson Middle School Social Studies teacher and Cinnaminson High School (CHS) Cross Country and Track coach, Mr. Callinan.  Justin was recognized as one of only 25 students nationwide to become a finalist for the prestigious honor.
On Friday, May 18, Justin was honored in an assembly on Friday morning when 2014 NFL Hall of Fame Inductee Andre Reed was present to give Justin his award and special jacket designed for him by the U.S. Army and Pro Football Hall of Fame in front of the entirety of Cinnaminson High School students and staff.
Arnold has been active in Cross Country, Winter Track and Field, and Spring Track and Field since his freshman year, all while being the Class of 2018's president and being active in Interact, National Honor Society, Cinnamentors, among other clubs and activities. Justin had many thoughts towards him receiving the scholarships.
"To me personally, I believe this scholarship is a representation of all of the hard work I've put into high school the past four years. Like in running track, cross country, the volunteer work I've done in the side and obviously school. Putting all of that work in and seeing it culminate is really cool," Justin said.
Justin, a future student at the University of Pennsylvania, who plans to be part of the Biological Basis of Behavior Program, had many interests in applying for this scholarship.
"I was interested in the NFL aspect of it, along with the fact that I had the qualifications, so the fact that I was an athlete, the fact that I did volunteer work, and being really involved made me want to apply for it," Justin said.
Through going to Mrs. McKinley's office regarding possible scholarships, Justin had found out about this scholarship in hopes to be one of the finalists.
"Mrs. McKinley gave me an information packet on it. I later decided to apply for it and it looked really interesting, as it has to do with football and the U.S Army. So I then applied for it, not expecting to be one of the finalists, but hey here we are," Justin said.
Andre Reed, a 2014 Pro Football Hall of Fame inductee, was present for this ceremony in awarding Arnold with his specially designed jacket. Reed was previously a wide receiver for the Buffalo Bills for 15 seasons (1985-1999) and the Washington Redskins for one season (2000). With Reed's 16-year National Football League career, he has many amazing accomplishments to look back on. Reed ranks seventeenth for most receiving yards with 13,198 yards and most receptions with 951. Reed also ranks at fourteenth for touchdown receptions with 87.
Reed grew up about 90 minutes from Cinnaminson in Allentown, PA where he attended Allentown's Dieruff High School.  There, he rewrote the record books before moving onto Kutztown University where he again rewrote the record books.  Both fields he once played on have now been named after Reed. Reed was inducted into the NFL Hall Of Fame four years ago and has been apart of this Award for Excellence ever since. After the ceremony Reed has shed some light on his thought towards giving out this award.
"I think it's about kids not only getting these values from their parents but you look at the Hall of Fame, you look at the Army, you look at the Military, and the values are almost the same. It's about excellence, it's about perseverance, it's about hard work, and finishing the job. That's what you want kids to do right now, with high school kids there are so many different things going on. Thirty years ago you went to school and that was it, but there are so many different obstacles these kids have to go through and I think that these organizations come to these students and tell them to keep their eyes on the prize, keeps your eyes looking forward and don't look back," Reed said
During Reed's speech he highlighted what he believed to be was one of the most important attributes in life – looking people in the eye and giving them respect.
"I just feel that we have lost that in our society, respect is such a big word and no one respects anyone anymore. Everybody just does what they want to do, and they expect results from that and then they don't want to be held accountable for their actions. We have to be accountable for our actions and we have to look people in the eye and that's where you get the best response. When you look someone in the eyes that's when you get the response, when you look away and talk to somebody you don't get that kind of response. If you look at somebody they look at you differently," Reed said.
Take a look at Andre's fun introduction to pronouncing "Cinnaminson" – https://www.youtube.com/watch?v=455qhF7Yb90